Quick Fact – Land for Renewable Energy Projects
The Essential Ingredient for Local Energy Resilience
The Climate Emergency and Decarbonization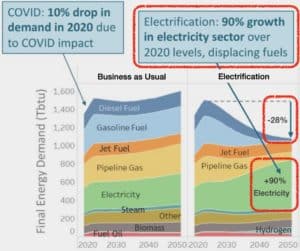 The climate emergency is accelerating. Washington state has taken the lead in decarbonizing the state by rapidly reducing fossil fuel emissions, especially from driving and heating.
Decarbonization will nearly double demand for electricity, while reducing TOTAL energy demand by 28% (see chart at left).
The Washington Clean Energy Transformation Act (CETA) is quickly shutting down coal plants, but this will reduce the regions generation capacity until new solar and wind generation can be developed.
Reduced capacity increases the likelihood of rolling blackouts, especially during extreme cold and hot weather events.
OPALCO is Increasing Local Energy Resilience
OPALCO's goal is to build safety net for essential services to protect islanders from mainland power disruptions while ensuring safe, reliable, sustainable and cost-effective essential utility services.
To minimize the impact of rolling blackouts on the mainland, OPALCO plan to build a variety of local energy solutions, including community solar paired with battery storage: micro-grids that help fortify population centers; smart grid elements that help reduce load during times of peak demand; and, eventually, tidal energy, which works year-round, even when the sun doesn't shine and the wind doesn't blow.
This will reduce our dependence on the mainland, but we will still need mainland power to stabilize intermittent resources such as solar, especially at night and in the winter. Firm power is key to our success.
Land is Essential to Local Energy Resilience
OPALCO estimates that it would require > 1,200 acres of land to site enough solar to make the county energy independent. But that would cost billions of dollars for the land, solar and batteries to ride through nights and dark winter days. That is not practical and would cause rates to go through the roof. That's why we focus on providing local renewable micro-grids to serve critical systems and population centers.
Building enough micro-grid projects to meet the need still requires a lot of land: up to a couple hundred acres, depending on how much local energy members will support.
The current County Comp Plan and land use designations include restrictive language around energy generation and are based on outdated models such as the noisy and polluting diesel generators of yesterday. The microgrids of today and tomorrow are clean and compatible with our island aesthetics and will become a source of community pride as we craft collaborative, sustainable and renewable solutions to meet our energy needs.
OPALCO needs land and certainty in permitting local energy projects in order to be successful with government grants, which are critical to keep project costs (and rates) down.
Most of the ideal land for solar is zoned agriculture or rural farm forest, accounting for about 55% of land in the county (about 60,000 acres). Current zoning restrictions make permitting for energy generation difficult to impossible on a full 80% of the land in the County, based on outdated models of generation.
Many San Juan County farmers and livestock growers support having solar on their farmland.
OPALCO is looking for large tracts of open land, ideally located in proximity to substations and population centers where essential services are located. OPALCO member rooftop solar is an important part of our energy plan – where it makes sense – but rooftops are generally not appropriate for microgrid development.
We Need Your Help to Build Local Energy Resilience!
Reach out to the County Council and let your representatives know you support increasing local energy, reducing our dependence on the mainland and making land-use regulations renewable energy friendly (solar, wind, tidal, biomass).
Reach out to land-use stake holders such as the Land Bank, San Juan Preservation Trust, Friends of the San Juans, Agriculture Guild, Conservation District, recycling organizations and the Charter Review Group
Donate land or provide easements to support local renewable energy projects
Subscribe to OPALCO's community solar project as they become available. Email solar@opalco.com to be notified when projects are open for subscription.
Learn More: