Pay Your Bill
Your OPALCO account information is online and available around the clock.
Four simple ways to pay your energy bill
AutoPay
Go to your SmartHub account to sign up for AutoPay – or call 360-376-3500 for help accessing your account. With AutoPay, the security deposit is waived (or returned). AutoPay removes any worries about late payments and late fees. Here is how you sign up for Autopay in SmartHub:

Here is how you sign up on your SmartHub app: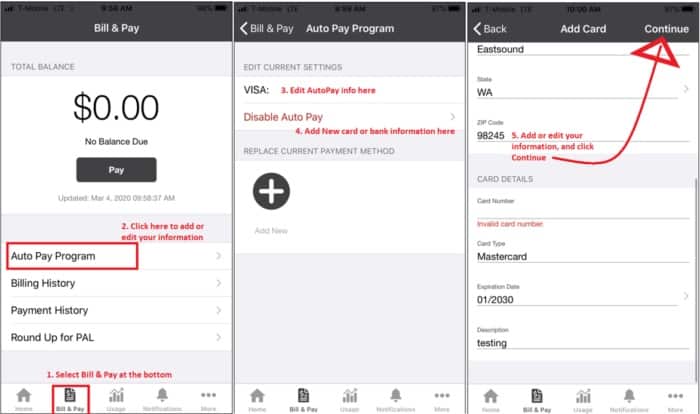 Pay by phone
Use SecurePay, our automated, highly-secure, over-the-phone payment option and pay your bill after hours. This free service is available around the clock by calling 1-888-999-0847 or by calling OPALCO directly (select option 3 on the auto-attendant). You'll be given the instructions on the line, and you'll want to:
Know your OPALCO account number (view your online or paper bill), and
Have your credit card of choice handy.
Drop box payment
Leave your payment into one of our drop boxes at the following locations in addition to the OPALCO business offices.
Orcas Island: Islanders Bank
San Juan Island: Islanders Bank
If you need assistance, contact Member Services. We can help you understand your OPALCO bill.