OPALCO Youth Shine at Regional Co-op Leadership Camp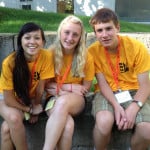 All four of the high-school students from San Juan County who participated in the Idaho Consumer-Owned Utility Association (ICUA) Youth Rally in July brought home additional scholarship awards and made OPALCO proud through their cooperation and leadership at the camp. OPALCO was the only co-op (out of 15 participating) to earn scholarship awards for each one of its students.
The students selected as OPALCO's 2013 Nourdine Jensen Cooperative Youth Scholarship Program award winners are Maya Burt-Kidwell and Brodie Miller of Orcas Island, and Bree Swanson of Lopez Island. Cameron Schuh (Orcas) returned as a Youth Director at the Rally, a week-long leadership camp at the College of Idaho. Cameron traveled to Idaho in March to plan the programming for the Rally, and was elected by his peers to serve as President of the 2013 Rally.
All three first-year students received $400 scholarship awards from the ICUA – in addition to the $500 scholarship awards received from OPALCO. Cameron was awarded an additional $600 scholarship, one of two given to returning student directors each year. Maya was elected by her peers at the Rally to return as a Youth Director in 2014.
The students participated in forums with regional leaders from the power industry, learned the basics of electricity and how co-ops work from the grassroots up, worked through a simulation of the challenges of serving (and trying to get re-elected) as a freshman Congressman – and then put their knowledge to work in team building exercises and games. The classroom time was balanced with fun summer camp activities such as bowling, roller-skating, social dances and a day at a water park.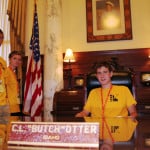 "My sense of the world was changed by coming to the Youth Rally," said Brodie Miller. "I met so many interesting people, and enjoyed learning about electricity, as well as participating in all of the other activities. What surprised me most was how many different jobs there are in the utilities industry—not just power line repair and accounting, but jobs in finance, engineering, public relations and energy efficiency."
Check out a slide show of the 2013 Youth Rally.
OPALCO's Nourdine Jensen Cooperative Youth Scholarship Program is open to sophomores and juniors of OPALCO member households. It includes a $500 OPALCO scholarship award, an all-expenses paid trip to the Youth Rally in Idaho and the chance to compete for additional scholarship awards at the Rally. More information is available online at www.opalco.com. Applications for the 2014 program will be accepted beginning in January 2014.