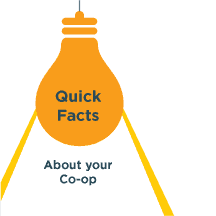 As a co-op, OPALCO is committed to its members. Here is a list of topics created to answer frequently asked questions:
Climate Impact and Our Energy Future: This is a four-part series looking at how climate impact is rapidly changing our world and the coming challenges as we make the transition to a future that is climate sustainable

Battery Storage Project: Check out the details of our very own project on Decatur Island.
Will there be enough power?: Climate change, legislation and rising costs are impacting where and how we get our energy resources. We must build our own resources for power.
OPALCO's plan: Climate change is transforming our world. OPALCO has a bold action plan for our energy future. We need your help!
Pacific Northwest Generating Cooperative (PNGC): OPALCO is a member of PNGC to ensure a reliable, affordable, clean power supply for a sustainable now and generations to come.
NRECA: National Rural Electric Cooperatives Association supports our  local co-op and our employees to better serve our membership.
Wireless Services: We follow all federal and industry guidelines for the health and safety of our members.
Ocean Health: OPALCO is committed to reducing carbon emissions for the health of the Salish Sea.
Cost of Service: Your power bill = the cost to deliver power.
Switch It Up!:  Beneficial Electrification can save members money.
Whales and Our Hydro System:  

OPALCO supports our whales and our hydro system.

Debt and Capital Project: As not-for-profits, co-ops use debt to finance capital projects.
Rock Island and OPALCO: Together we are providing our island community with critical infrastructure.
Rates and Affordability: Keeping rates as low as possible.
Staff Compensation: Hiring and retaining top notch personnel is critical to the operation of OPALCO's complex electrical and communications systems.
Elections: OPALCO's Board of Director election is a cornerstone of Co-op Democracy.