Quick Fact: Inflation Reduction Act
The Inflation Reduction Act Pays you to Save Energy and Save the Planet
Climate change is accelerating. Nonstop news of summer heat waves, wildfires, storms and flooding can be overwhelming. To address these perilous trends, the federal government has a plan to reduce U.S. greenhouse gas emissions by 50% by 2030 from 2005 levels. The Bipartisan Infrastructure Law (BIL) and the Inflation Reduction Act (IRA) were established to help achieve this critical goal with $391 billion to support clean energy and address climate change, including $8.8 billion in rebates available to average American citizens for home energy efficiency and electrification projects.
The IRA will help OPALCO members save an average of $1,800 annually on their TOTAL energy bills by replacing fossil-fueled transportation and heating systems with cleaner, more efficient electric versions. And, there's more: the IRA also offers incentives and tax credits on a wide range of home efficiency upgrades, solar installations, new electrical panels – and even electric bikes!
How the IRA Benefits You and the Community
The IRA provides money for households at every income level, from electrification rebates for low- and moderate-income families to tax credits for high-income ones. Rewiring America estimates that 3,308 low- and moderate-income (LMI) households in San Juan County would be eligible for an average of $10,075 in Electrification Rebates through the IRA. Every home, regardless of income level in San Juan County, would be eligible for an average of $9,308 in tax credits and an average of $644 in efficiency rebates. 
The IRA helps you Save Energy, Save Money, and Save the Planet
Electrifying space and water heating and driving can save you over $2,000 yearly in heating and driving expenses. And, thanks to clean energy in the region, it helps reduce your fossil fuel emissions to near zero. The chart below shows a typical county home's heating and driving savings.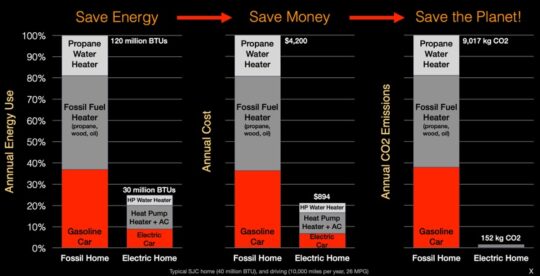 The IRA helps reduce the upfront costs of modern, clean electric vehicles (EVs), heat pumps, and appliances. And this is important because things will get tougher before they get better. Building the new clean energy grid will take time and money. Electric rates will increase, and outages may increase in the near term. But the IRA can help you save energy and money and be more energy resilient.
The Inflation Reduction Act is an electric engine for community economic growth. The money that flows to our communities through the IRA creates a virtuous cycle of localized spending and community benefit. The benefits include new local jobs and IRA savings that result in households having more money in their pockets month to month – which equates to more purchasing power to support ourselves and our community.
IRA tax credits are available now, and the rebates are coming soon as the states set up programs that tap into federal funds. The IRA is explained in a clear and website called Rewiring America, which includes a powerful calculator to help each person figure out what dollars, tax credits and efficiency measures are available to them.
Your savings will increase exponentially as you stack available incentives including the IRA, OPALCO's rebates and on-bill financing programs and other federal incentives and grants through the Opportunity Council (low-income households) and Sustainable Connections (businesses).
Electrification is today's Victory Garden — it's up to each of us to do our part to make the changes – big and small – for a healthy energy future.
Find out more: