OPALCO's EV Happy Deal Makes Happy Drivers
Island drivers are loving their electric vehicles (EVs) this summer, especially the more than twenty OPALCO members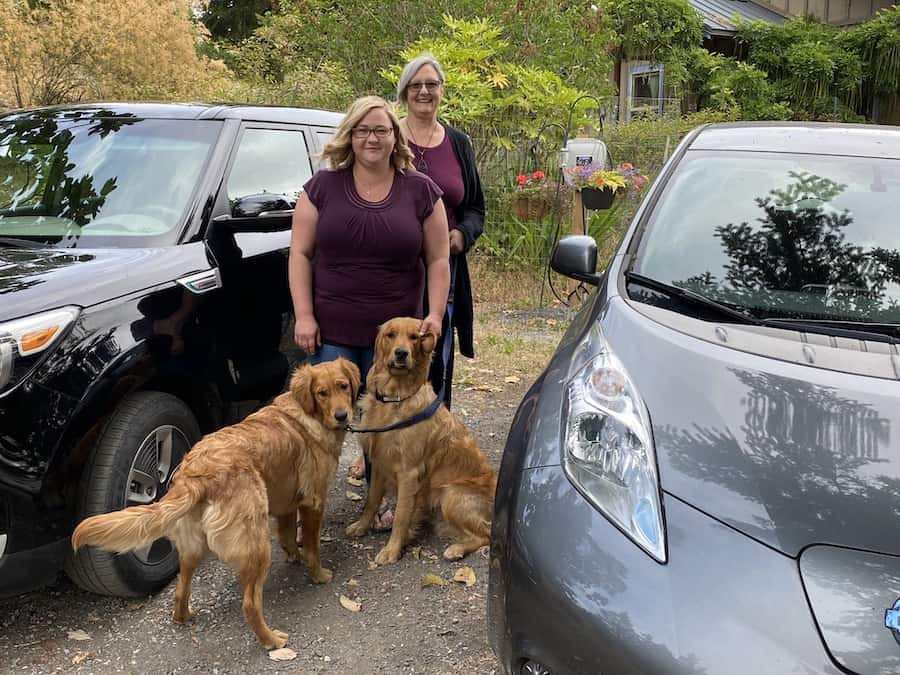 who have purchased a used EV through the EV Happy Deal. Funded by a grant from the Bonneville Environmental Foundation, the EV Happy Deal gives Co-op members a free EV charger (including installation up to $2,500), pays the WA tab fees and sales tax (if any, after Washington's sales tax exemption on used EVs up to $16k sales price) and covers the first year of kilowatt hour charges for members who qualify for OPALCO's low-income program. The grant specifies that used EVs must be purchased from the local San Juan Islanders dealership, Island eCars on Orcas Island.
Sandi Burt was one of the first members on the lot after hearing about the Happy Deal. "I heard about the Happy Deal from my neighbor Marina and took my sweet little Nissan Leaf for a test drive the very next day," says Sandi with a big smile. "I called OPALCO over my lunch hour to confirm the details and bought it that very same day." Living in Deer Harbor, Sandi makes at least one trip a day to Eastsound where she works as a counselor in private practice and as a social worker at the elementary school. She's calculated that she's on course to save $1,300 in gas alone over her aging ICE (internal combustion engine) car.  "I love the tree graphic on my dashboard showing my carbon offset. When I drive my neighbor's son into school, we make a game out of watching the tree grow as we put the clean miles on – it's exciting!"
Marina Pereplettchikova (Sandi's neighbor) had her eye on a Kia Soul in the lot – but it was sold before she could get her hands on it. "I was so disappointed – but David (Griffin, proprietor of Island eCars) was great and worked with me to find exactly what I wanted on auction and had it delivered it to the island," said Marina. "I got everything I wanted in a car that is two years newer than the one I fell in love with!" Marina's Soul has a driving range of about 100 miles (depends on battery size and age of battery) and the family has taken it off island to Bellingham. "We planned all our stops around charging the car and it was actually fun! I absolutely love the one-pedal driving, although I was a little wary at first. And, we get the little car discount on the ferry!" Between work and her son's activities, the family makes multiple trips into Eastsound each day and are very happy with the savings.
Both EV converts agree that their EVs are the perfect island car and are enjoying all the newer car perks – like power windows, nice interiors and plenty of room for their matched set of golden retriever puppies. Sea Run Electric installed their chargers and both neighbors are very happy with how easy it was to get connected and driving.
Margot Shaw of Westsound on Orcas Island says "the EV idea seems to be in the very air!" Margot was inspired by EV advocate Bruce Benton to look into making the electric leap, but it was her enthusiasm for a smaller carbon footprint that sealed the deal on a 2015 Nissan Leaf. "I want to leave this place in better shape than I found it," said Margot. "It's like getting our COVID shots: we're thinking about more than just ourselves." She loves the ease of driving and the simplicity of how an EV works: "It's a whole new experience, I'm learning a new way of driving, it's good for the brain – and it's FUN!"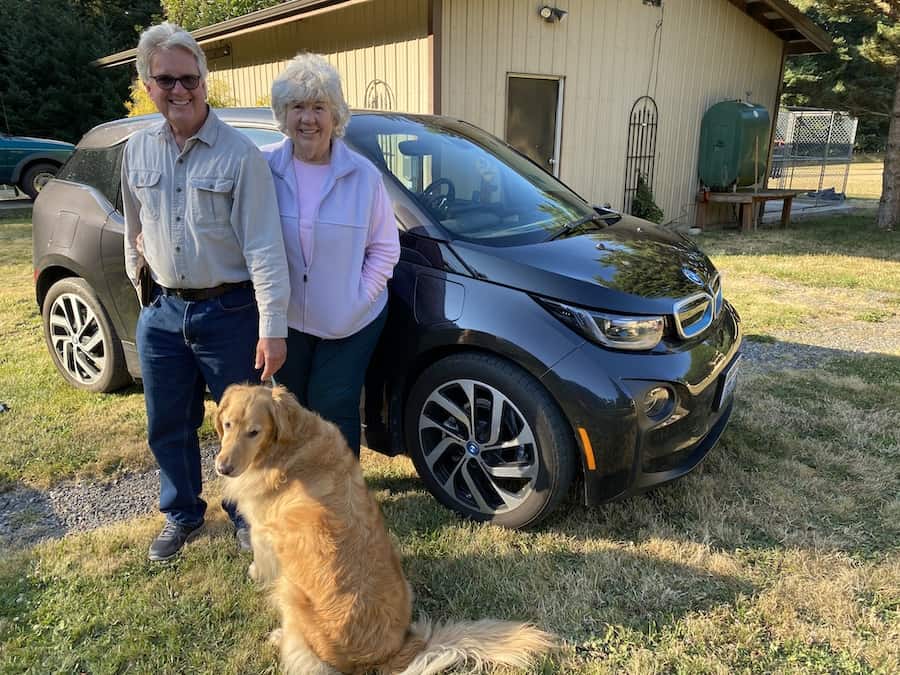 Retired Eastsound couple Patrick Shepler and Kathy Godard had been talking about replacing Kathy's car with an EV and seeing the EV Happy Deal on OPALCO's website "tipped the scales to get us moving on it," said Patrick. "Kathy asked me to go take a look at 'the cutest car' she'd seen on the lot; I went down and bought it." They love their BMW i3, a model that has a small gas kicker motor for emergencies. "I took it up Buck Mountain and it drives like a rocket ship! It's amazing to watch it charge back up (regenerative charging) as you go downhill!" They also love the one-pedal driving (a high-efficiency mode) and, as Patrick put it, "saving all those dead dinosaurs." Kathy agreed and added, "it just makes sense: it's the perfect island car and we like supporting an island business."
Come check out a wide range of EVs at OPALCO's EV Jamboree on August 5th @ 4:30pm in the parking lot at OPALCO's Eastsound headquarters (183 Mt. Baker Road). If you've already made the EV switch: bring your EV for show and tell! We'll be serving up expert answers to your questions and free hot dogs – fun activities for the kids. There are still some EV Happy Deals to be had – while supplies last! Check out the inventory at https://islandecars.com/ – or contact David Griffin to let him know what you are looking for.
OPALCO supports the EV revolution because transportation is the biggest contributor to carbon emissions. As we decarbonize our fuel mix and our region, switching to electric vehicles is a critical component. OPALCO offers a $500 rebate for EV chargers or members can finance up to $2,500 for a charge and installation through the Switch it Up! program. Learn more about EVs and use our EV model and EV charger comparison tools at: www.opalco.com/evs.