No More Overhead Powerlines in Eastsound!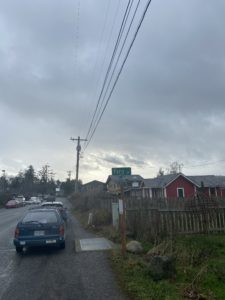 Starting January 15th, OPALCO will begin the process of replacing the overhead powerlines on Prune Alley. Moving the lines underground will increase reliability by reducing the likelihood of power outages due to high winds or falling trees. As a bonus, removing the visual powerlines enhances the beauty of Eastsound.
Join us Tuesday, January 19th at 11:30 am for a tailgater event to answer questions about the project (find us in the parking spots behind The Lower – we'll be there until 12:30!). OPALCO is working with local contractor Mike Carlson for this two month long project (could be longer due to weather conditions). The project will also include installing vaults for low profile streetlights for the County and EV charging stations. For the duration of the project, drivers can expect delays on Prune Alley.
The west side of Eastsound had the power lines put underground many years ago. OPALCO's distribution powerlines are 87% underground which greatly increases our power reliability and overall safety our grid. Local business owners are happy with this upgrade to our grid and reliability.
2021 is going to be a big year for OPALCO. OPALCO is starting a new campaign, The Island Way, to begin telling the story of what it means to have a healthy and sustainable energy future in the island.  Stay tuned for ways to engage with this big energy transition, including a new Community Solar project. For those who wish to be directly involved in shaping the co-op, there are three open board positions – learn more at https://www.opalco.com/why-run.