What are these capital credits I see on my June bill?

Capital credits are the key to being a co-op member! As a member owner, it is your piece of the pie.
Each June, after our financial audit, we use the calculation from Member Service Policy 11 to determine each members capital credit allocation. We distribute capital credits on a 25-year cycle.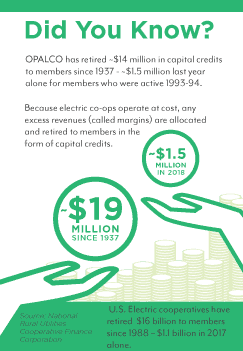 Here are some common questions about capital credits:
What are capital credits?
Capital credits represent your ownership in OPALCO.
What should I do if I move out of the county?
Keep OPALCO updated with your current address so we can make sure you can get your capital credit check when it's your turn.
What happens when a member is deceased?
Capital credits of a deceased member may be paid on a discounted basis without waiting 25 years. However, estate payments are not automatic. A representative of the estate must request the credits by submitting a Application for Retirement of Decedent Capital Credits.
Why not get your capital credits sooner?
As a cooperative owned by its members, OPALCO does not earn profits. Instead, revenues over and above the cost of doing business are called "margins." Margins represent an interest-free loan for operating capital made to the cooperative by the membership.These capital credits carry forward through the years. Capital credits are returned to OPALCO members when finances permit on a 25-year cycle.
When do I get paid?
Each December we distribute checks to members for 25 years prior.
How do I get paid?
You will receive a check in the mail to the address we have on file. It is important you keep your address and all information on your account, including who is on your membership (ie. should include all spouses), up-to-date so we can get your money to you.
More questions?
Email communications@opalco.com or give us a call at (360) 376-3500.