Tree Trimming Around Power Lines is Critical for Wildfire Prevention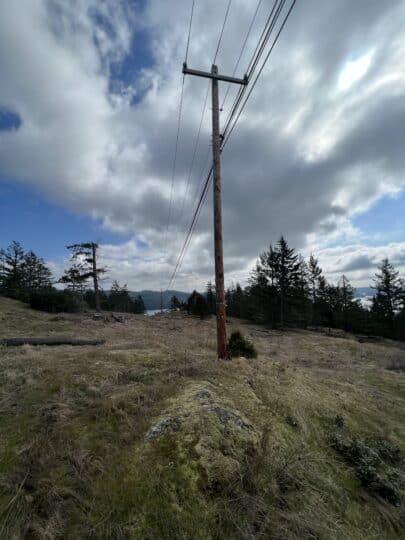 Wildfires are a regular threat to our built and natural environments. According to the Seattle Times[1], in 2020, Washington was second only to California in the number of acres burned because of human-caused wildfire, the category that includes power line ignitions.
Our remote and forested islands are vulnerable during the hot, dry summer months. OPALCO has an aggressive Right-of-Way (ROW) program to manage trees and vegetation near power lines. The program helps us to maintain a safe and reliable electrical system and to do our part for local wildfire prevention.
All year long, the crews do safety checks and inspect along the miles of power lines throughout San Juan County. They are looking for damage to lines, areas that needs ROW clearing and other maintenance issues. We routinely maintain ROW areas on a three-year cycle, but incidents of power blinks, reports of a tree in the line or faults in a section of line will increase the priority for sections of line.  During COVID, contractors were less available for routine trimming and as a result, current ROW clearing efforts are more visible.
"This is critical work for our island communities," said Rex Guard, General Foreman for San Juan Island.  "I've lived here my whole life and have been working with OPALCO for most of that time. I understand that it's hard to lose trees but this work is incredibly important for the safety of our crews now and for the safety of our communities well into the future."
OPALCO works with contractors to advise, identify areas that need to be addressed and to do the tree trimming or removal that is close to the power lines. How often and how aggressively an area is addressed depends on the tree species, how fast they grow, and equipment in the vicinity. The contractor teams include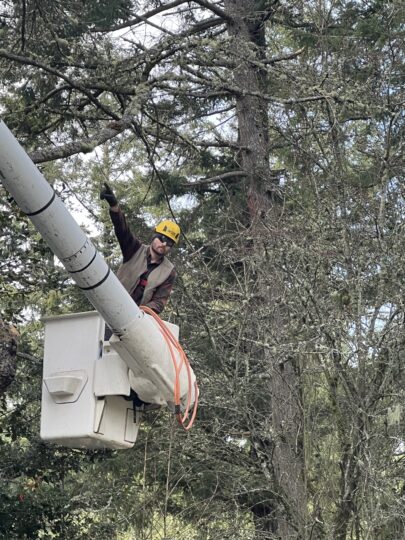 certified arborists who are trained to work safely within 10 feet of high voltage power lines. As an additional safeguard during the hotter and drier months (wildfire season), OPALCO's operations team alters automated system protections to be more sensitive: ready to take the system off line if specified conditions develop.
OPALCO's power lines are more than 87% underground. The lines OPALCO has buried are the lower voltage distribution lines: the lines that feed your house. The higher voltage transmission lines will likely never be buried due to the high cost (more than $5M/mile) and challenging logistics including the requirements for bigger easements from property owners and specific standards for burying high voltage lines in concrete. Burying transmission lines also limits crew access, can delay outage restoration and make repairs more difficult.
All power lines need to be routinely cleared so the crews can have access for maintenance and outage repair. When lines have been properly cleared it gives crews line of sight to identify issues and easier access for the needed equipment to make those repairs.
OPALCO follows national standards for right-of-way clearing covering both sides of the pole line as follows: 10′ on each side of the line for underground distribution lines, 25′ for overhead distribution lines and 50' for transmission lines. Property owners give OPALCO easements in order to maintain and clear areas around the power lines. If trees must come down, that lumber belongs to the property owner to use or dispose of as they choose.
What can you do?
If you see trees or brush close to power lines, call OPALCO and a team will come out to assess and manage clearing. Please don't attempt to cut a dead or dying tree that is leaning heavily toward OPALCO power lines. Call us!
If a tree is outside of the ROW but is dangerously close to a power line, we will make every effort to work with the property owner and get permission to remove the tree that is deemed a potential hazard to our electrical system.
Keep any electrical equipment on your property, including transformers (green boxes) clear of brush, debris and clutter.
Before burning on your property, always check first on the status of burning in the County at the San Juan County website: https://www.sanjuanco.com/1096/Open-Burn-Info.
Don't forget to call before you dig. Call 811 and a professional will come out to let you know where the power lines are on your property.
Wildfire season is a critical problem in our region. West coast utilities have faced serious risk from uncontrolled wildfires. OPALCO is doing its part to prevent wildfires. This also benefits the community by reducing power outages by making it easier and faster for the crew to repair these outages.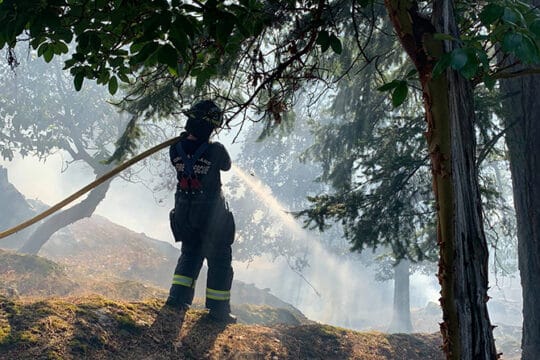 Photo courtesy of Orcas Fire Department.
[1] "When utilities spark wildfires in Washington, they can 'burn down your house and get away with it'." Seattle Times, Jan. 2, 2022