Quick Fact – WA 2021 Energy Strategy
If you have read our quick fact on Climate Impact and Our Energy Future, you know:
Global carbon emissions have jumped more than 30% during the last 100 years.

As many as one million species are now at risk of extinction, many within decades.

Oceans have been rapidly heating over the past few decades, with about half of the increase since 1865 occurring in the past 20 year.
Globally, governments are accelerating their plans to limit climate disruption. The key is decarbonizing.
Leading the way, Washington state just released their 2021 Energy Strategy. It is a bold aspirational document aimed at building an equitable, inclusive, resilient clean energy economy.
Washington State law declares that a successful energy strategy must balance three goals:
Maintain competitive energy prices that are fair and reasonable for consumers and businesses and support our state's continued economic success;
Increase competitiveness by fostering a clean energy economy and jobs through business and workforce development; and
Meet the state's obligations to reduce greenhouse gas emissions 45% below 1990 levels by 2030 and 95% below by 2050.
How will Washington energy use change by 2050?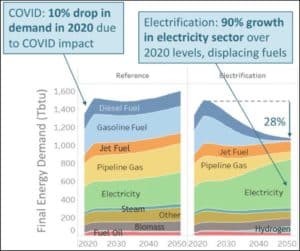 To achieve that 95% reduction of greenhouse gas emissions, Washington energy strategy significantly reduces fossil fuel use and replaces it with clean electricity. The net result is Total Energy use will decrease by 28% (see chart at right), but electricity use will grow 90%. That electricity will primarily consist of hydro, wind, and solar plus storage. Washington is rapidly removing coal from the fuel mix, with natural gas to follow.
Energy use will become much more efficient, especially through the electrification of heating and transportation. A whopping 45% of Washington greenhouse gas emissions come from transportation.
What will the plan cost?
Washington evaluated a number of scenarios, and the "electrification" approach was found to be the lowest cost. While they are vague about the details, it appears that annual net energy costs would increase by about 1% of GDP by 2030 – about $6 billion per year – equivalent to an 11% increase in Washington's annual budget of $57 billion. There is no indication of where this funding will come from: rate payers, taxes, bonds, investors, grants, carbon tax?
Will a wild west of energy investors develop these resources and force Washington citizens to pay "market rates" to meet demand for energy, similar to what we have seen playing out in Texas, where the consumer becomes subject to predatory pricing during cold snaps and heat waves?
Enormous Land Requirements
Details are also vague regarding land and permitting costs assumptions for solar, wind and transmission deployment?
Land is a sleeper issue in transforming the grid. From a national perspective, it has been estimated that we need to build three 1,000 mile long transmission lines every year for the next 30 years to interconnect distributed solar and wind generation with the grid. And in the past 10 years we haven't built even one. It's going to be a big expensive job.
To maintain resource adequacy and prevent rolling blackouts similar to what we have seen in Texas and California, E3 estimates 97,000 MW of new wind and 46,000 MW of new solar are needed, requiring an estimated 3 to 14 million acres of land – or 100 times the land mass of Portland and Seattle combined.  It is unclear whether there are enough sites that are suitable, purchasable and permitable for that level of renewable energy deployment.  
And depending on how thorough we want to be reducing fossil fuel use, Pacific Northwest National Labs estimates to replace jet fuel at SeaTac would require 36% of the electricity generated in Washington, equivalent to 5,000 new wind turbines.
Enormous Transmission Requirements
And once you build all that new solar and wind generation on millions of acres of western land, how do you get it to where it will be used?
Most of the best wind and solar sites are located either in Montana or Wyoming (for wind) or Southern Idaho and Utah (for solar). Delivering energy from 140,000 MW of wind and solar into load centers would require dozens of new high voltage transmission lines. Will those states be willing and able to purchase and permit the required land and then sell the energy to Washington, rather than use it themselves? In effect impacting their natural lands for Washington energy benefit. The Northwest faces this same issue when it comes to exporting our precious hydro energy to California to meet their hunger for firm energy to stabilize their growing solar portfolio.
Washington's Nine Guiding Principals
To meet those goals the Washington Legislature lays out nine principles to guide strategy development and implementation.
Pursue all cost-effective energy efficiency and conservation as the state's preferred energy resource, consistent with state law;
Ensure that the state's energy system meets the health, welfare, and economic needs of its citizens with particular emphasis on meeting the needs of low-income and vulnerable populations;
Maintain and enhance economic competitiveness by ensuring an affordable and reliable supply of energy resources and by supporting clean energy technology innovation, access to clean energy markets worldwide, and clean energy business and workforce development;
Reduce dependence on fossil fuel energy sources through improved efficiency and development of cleaner energy sources, such as bioenergy, low-carbon energy sources, and natural gas, and leveraging the indigenous resources of the state for the production of clean energy;
Improve efficiency of transportation energy use through advances in vehicle technology, increased system efficiencies, development of electricity, biofuels, and other clean fuels, and regional transportation planning to improve transportation choices;
Meet the state's statutory greenhouse gas limits and environmental requirements as the state develops and uses energy resources;
Build on the advantage provided by the state's clean regional electrical grid by expanding and integrating additional carbon-free and carbon-neutral generation, and improving the transmission capacity serving the state;
Make state government a model for energy efficiency, use of clean and renewable energy, and greenhouse gas-neutral operations; and
Maintain and enhance our state's existing energy infrastructure.
No Easy Solutions
To decarbonize the planet, nations are essentially trying to replace a fossil fuel infrastructure, developed over the past 100 years, with clean renewable energy, in less than 30 years. This is a very complex, very expensive task with a lot of moving parts and problems that have no easy solutions.
Each nation and each state is endeavoring to do an Apollo moonshot and a Manhattan project, over and over and over again, until the work is done. OPALCO Board President Vince Dauciunas has likened it to "rebuilding a DC-3 into a 787 Dreamliner, while in flight, without losing altitude or direction, and keeping the passengers safe and comfortable at the same time."
OPALCO applauds Washington's leadership role in working to decarbonize the planet. The devil is in the details, and we will continue to monitor developments and share our insight and analysis with co-op members.