OPALCO Youth Earn Top Honors at Regional Co-op Leadership Camp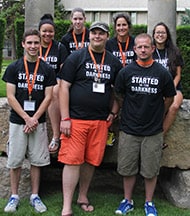 Five Nourdine Jensen Cooperative Youth Scholars selected by OPALCO attended the 2014 Idaho Consumer-Owned Utility Association (ICUA) Co-op Youth Rally at the College of Idaho this summer. Each made their mark on the regional youth leadership camp and each made the Co-op proud.
The students selected as OPALCO's 2014 Nourdine Jensen Cooperative Youth Scholarship award winners were (from l-r in photo): William Coe, Gabi Carver-Hackett, Willow Paige, Peter Kamin (also pictured Suzanne Olson and Roger Sandwith, Chaperones) and Maya Burt-Kidwell, who returned as a Youth Director at the Rally.
In addition to the $500 scholarship awards received from OPALCO, Peter Kamin was awarded the top ICUA scholarship of $500 and William Coe was awarded a $300 ICUA scholarship. Maya Burt-Kidwell earned the top second-year ICUA scholarship ($600). William was elected by his peers at the Rally to return as a Youth Director in 2014, which includes a trip to Boise in March to plan the Rally.
The students participated in forums with regional leaders from the power industry, learned the basics of electricity and how co-ops work from the grassroots up, worked through a simulation of the challenges of serving (and trying to get re-elected) as a freshman Congressman – and then put their knowledge to work in team building exercises and games. The classroom time was balanced with fun summer camp activities such as bowling, roller-skating, social dances and a day at a water park.
The students will give a presentation of their experiences at the October 16th meeting of the Board of Directors in Eastsound beginning at 8:30 a.m. Members are welcome to attend OPALCO board meetings – and photos are posted on Facebook (Orcas Power & Light Cooperative).
High-school students of OPALCO member-owner families who are currently sophomores and juniors can apply online for the 2015 Nourdine Jensen Cooperative Youth Scholarship awards beginning in February. Please contact Suzanne Olson (solson@opalco.com) for more information.