Meet Peppe Picone: Green Entrepreneur for a Better Future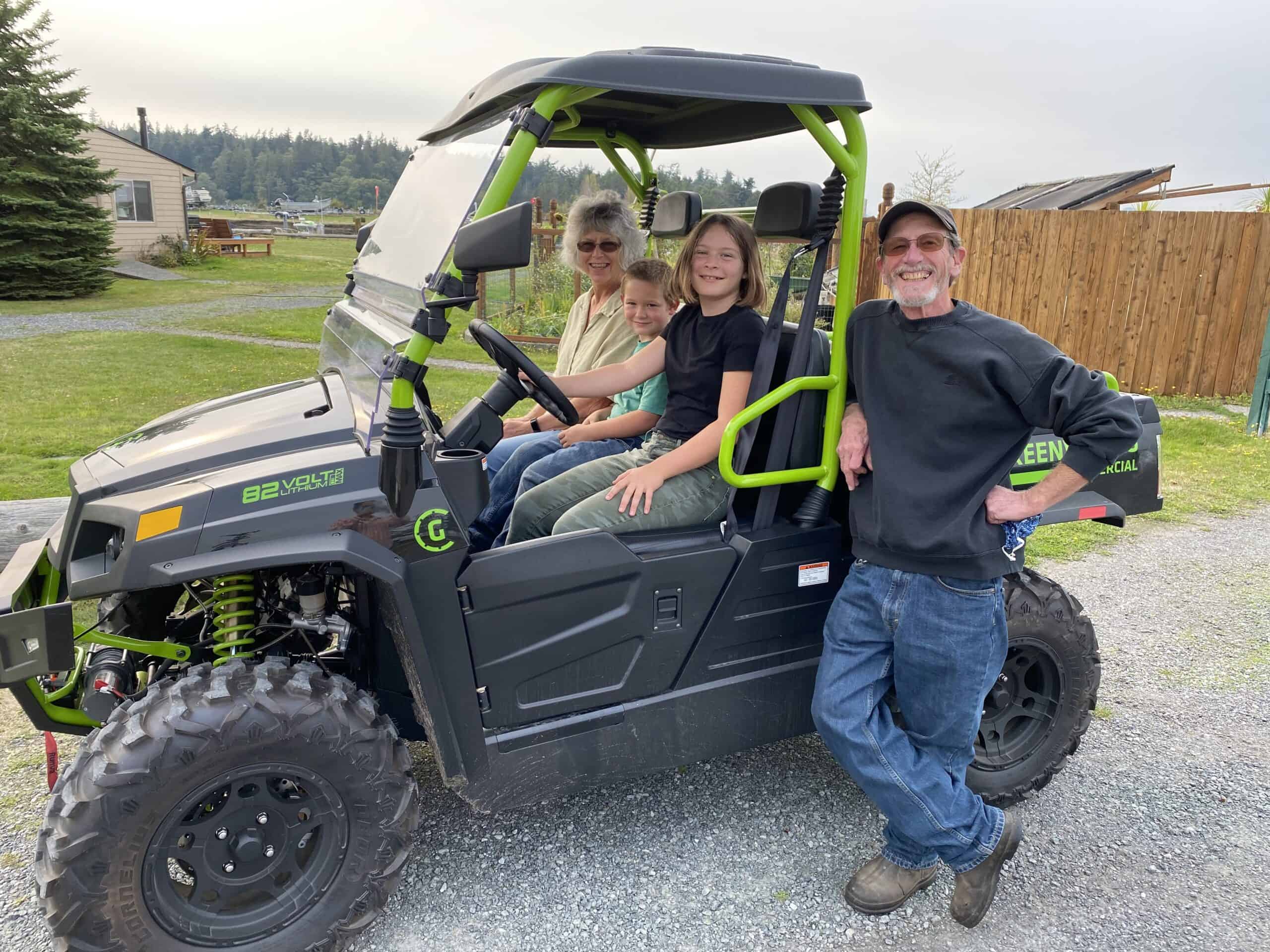 Peppe Picone cares about family and his island community, which is why he is opening a Greenworks dealership for electric utility terrain vehicles (UTV) on Orcas Island: think golf cart marries rugged wilderness quad. The Greenworks UTV is the only electric utility vehicle with lithium-ion batteries on the market and, just right, Peppe believes, for getting work done in the islands carbon free.
You likely know Peppe and his wife Helene, either from days past when they owned and ran the Radio Shack business in Eastsound Village or from Peppe's tenure as a teacher, Helene's work with Windermere Realty – or through their two grown children Mariah Dunning and Laurel Picone Colestock, who are raising their families on Orcas. An OPALCO member for 32 years, the Picones have been a big part of the Orcas community since 1988, when they moved to the island for Peppe to fill a teaching position at Nellie S. Milton Elementary School.
Aging in place on the 40 acres they share with their children and grandchildren, Peppe needed a tool to help manage their property: hauling limbs and cutting firewood, clearing out the ocean spray to make a fire break, getting to the main road when it snows, hauling garden materials – and groceries.  He used a neighbor's gas powered quad last winter, but it was noisy, the exhaust fumes hung in the air of their home valley and, well, it ran on fossil fuels.  "There's no future in being a polluter," said Peppe. "We love our island lifestyle on Orcas and see this vehicle as a way to keep going strong, even as we slow down."
The Greenworks UTV can be licensed for street driving, has a dumping bed, a heavy-duty winch, tow package – and you can even add a snowplow. Greenworks also makes electric power tools (check 'em out) and a zero-turn riding lawnmower – all powered by lithium ion batteries.
"I'm watching the clock," Peppe said. "The seven-year climate change clock. I'm concerned for what kind of world my grandkids will be left to live in. I'm doing what I can to support the electrification of transportation—and switching to electric for heating at home."