Heroes of Power Outage Restoration
See the full slideshow of outage repair photos.
It was a dark and stormy night on Sunday, December 6th with wind gusts reported from 60 to 100mph. At about 6:30 pm, a major power outage occurred, effecting all of Shaw and the entire west side of Orcas islands, approximately 3,300 members. Using the automated system management software (Supervisory Control and Data Acquisition) made possible by our fiber-optic network, our crew identified the most likely location of the fault and rushed to the ferry terminal and asked the captain to hold the boat so that our Lopez crew could get equipment over to Shaw and start work right away. A crew of three linemen, a bucket and a digger truck were deployed to Shaw and the men worked through the night.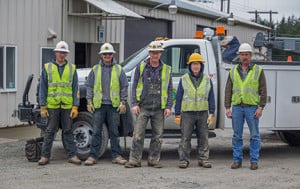 A 120' tall grand fir tree had broken off about 20' above ground, the top blown on a parallel path like a kite more than 60' away across a road and into the transmission lines. The force of the treetop on the line pulled seven poles down in sequence from the County Park to the Shaw South Submarine Cable Terminal.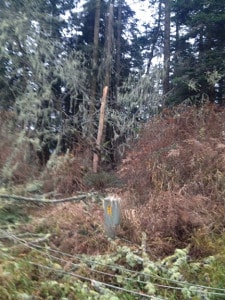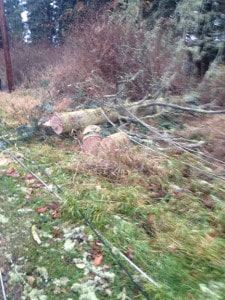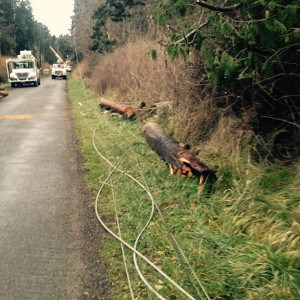 There were 4 poles staged on Shaw (standard practice) – and three others were transported over the next morning from our Orcas yard along with the Orcas crew of 4 men, one bucket truck and one digger truck. On the next ferry, the San Juan crew (4 men, 1 bucket truck and 1 digger truck) arrived to join the work effort.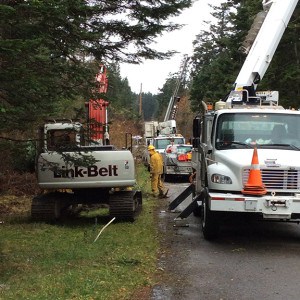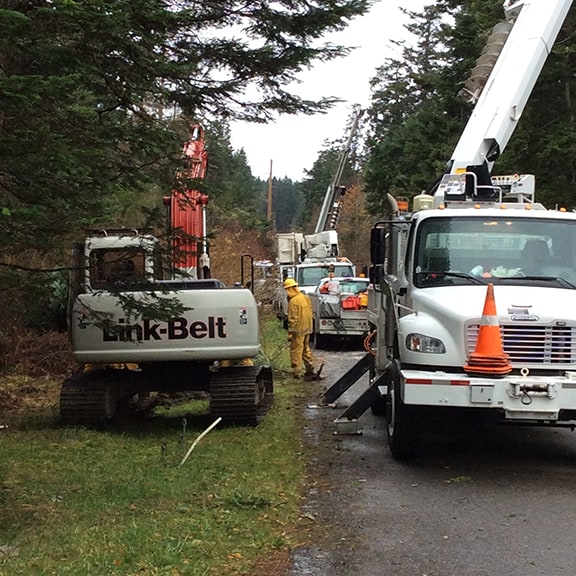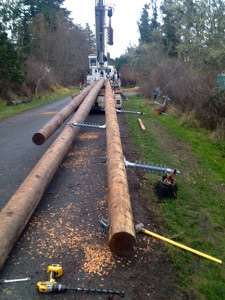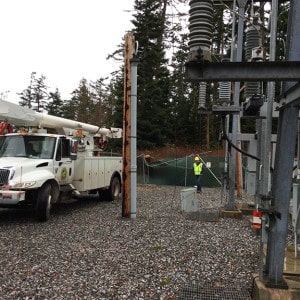 The repair job was huge. The damaged poles had to be deconstructed and removed using excavation equipment to pluck each base from the ground. Care was taken to protect the fiber optic network, which was still partially intact. Each hole then had to be augered to prepare for the new pole. It was raining so hard that the holes were filling up with muck.  Shaw resident and excavator Hardy Schmidt joined in the operation using a bucket to scoop each hole clean in order to get the new poles set. Each pole was framed and equipped to carry the transmission, distribution and fiber-optic lines. Poles were set and then the lines restrung. Once the construction was complete, circuits were opened and tested. Following a major outage, the power is brought on slowly (cold load pick-up) to keep voltage steady.
Parts of Orcas Island received power by early Monday morning after our crews were able to reroute power to sections of Eastsound by use of the redundant feed to Olga from Blakely Island. Capacity was limited, but many businesses and essential services had power in time for the start of business.
Nearly 30 hours later, our crews were able to return home and get some rest. See the full slideshow of outage repair photos.
How could an outage of this magnitude happen? It was a fluke of weather. And, the event raises some good topics about how we build and maintain our system.
Poles: The poles on Shaw were Class 1 (rated for 50 years of service), originally installed in 1980.  All of OPALCO's approximately 2,000 poles (over 20 islands) are inspected on a 5-7 year rolling schedule, as prescribed by the Rural Utilities Service.  The poles damaged had been inspected in May of 2010 and reported to be in good to excellent condition.
Undergrounding: Members periodically ask why we don't underground our transmission lines. Burying high-voltage is not feasible because of: 1) easement requirements—current easements for overhead aren't transferable for underground and require a much larger footprints; 2) installation—construction requirements are much greater to meet safety requirements for high voltage lines and trenches must be deeper than feasible in our rocky terrain; 3) operations—when outages occur, splice repairs require a new vault installation, cost from $80-$100K and can take up to two months to accomplish—not counting the lead time to order the splice kits themselves, which have a limited shelf life of 2-3 months; 4) cost to build underground high-voltage lines is 4-14x more than distribution lines. As a point of reference, undergrounding only 50% of our transmission system would cost our membership more than $50M (OPALCO total net plant is currently $60M).
Redundancy: We have limited capacity on our redundant transmission feed from Blakely to Olga. The current RUS Construction Work Plan (amended) allocates capital funding for a direct tap from BPA scheduled in 2018 that would bring power to Olga through Decatur Island, routing the distribution line through Moran State Park to Eastsound Village. This will substantially increase our capacity for redundancy.
Right of Way (ROW) Clearing: In our rural, forested communities, keeping the right of ways clear of trees and shrubs is a constant challenge. Members can help by cooperating with our engineering staff on ROW projects and letting us know when vegetation on your property is growing up into the clearance area. OPALCO conducts right of way clearing efforts on selected portions of our system on an annual basis and works with property owners to balance the hazards with a sensitivity to our beautiful environment. In this case, a 120' tree was more than 60' away from our right of way zone.