Are We at Risk of Another Major Communications Outage?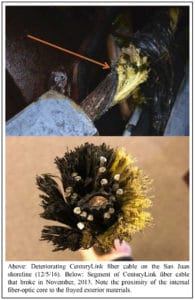 Remember the communications outage of November 2013 caused when CenturyLink's fiber-optic cable failed?  We are once again at risk of a prolonged communications outage due to the deteriorated condition of CenturyLink's submarine cable that carries fiber to the communications hub on San Juan Island that serves most of the County.
For the past five years, OPALCO has been planning and preparing for an electric submarine cable replacement in the same channel, between Lopez and San Juan islands, where the CenturyLink fiber cable also crosses. In preparation for the removal of the old power line, on December 6, 2016 an OPALCO technician visiting the cable landing below the Pear Point Sub Station took several photos of the area.
What we learned from these images is the same CenturyLink fiber cable that broke in November 2013 looks to be in a serious state is disrepair.
The cable's outer conduit has separated, letting the harsh marine elements in, and the protective layers are clearly eroding and coming apart. In addition, CenturyLink has lashed its fiber cable to OPALCO's submarine cable with rope and bailing wire without OPALCO's permission. This is making it difficult for OPALCO to maintain its own equipment and needlessly complicating OPALCO's upcoming submarine cable replacement project resuming in June. OPALCO has been calling on CenturyLink to relocate and secure their cable for years. CenturyLink has been largely silent on the issue until recently.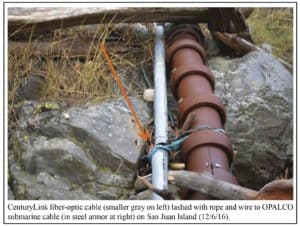 On January 10, 2017 at the San Juan County Council, OPALCO's System Engineer Joel Mietzner and Rock Island's EVP Gerry Lawlor brought these findings to the attention of the Council. They underscored the risk of the fiber optic cable breaking, and called for support to rally all relevant agencies to assemble a contingency plan in case of another outage. The Council called for further discussion at an upcoming Council meeting.
Our ultimate solution in this critical crossing is OPALCO's new submarine cable, which contains multiple fiber bundles in the center of it. It weighs 35lbs per foot and is protected by steel armor on all sides. OPALCO's new cable provides us with fast, reliable, and redundant services for the next 50+ years.
OPALCO and its subsidiary Rock Island are dedicated to delivering the most reliable service to its members and subscribers. As a result, both OPALCO and its subsidiary Rock Island are taking immediate action in case of an outage. We are currently in the process of setting up additional wireless backhauls from Lopez to San Juan and the surrounding areas, and equipping each of these sites with backup generation.
Adding more capacity between San Juan Island and the rest of the county ensures OPALCO's utility systems and Rock Island's Fiber and LTE services will continue to operate uninterrupted. Please note that Rock Island DSL customers are still running through CenturyLink's infrastructure and run the risk of an outage if this cable breaks.
Our mission is to help ensure that your power, fiber and LTE services have the redundant systems in place to maintain the services we depend on for the safety and economic stability of our communities.