Randy J. Cornelius Honored with Lifetime Achievement Award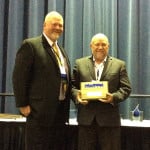 Former General Manager and current Board Member, Randy J. Cornelius was honored by his peers with the Northwest Public Power Association (NWPPA) Life Member Award on May 20, 2015 during the association's Annual Conference and Membership Meeting in Anchorage, Alaska. Cornelius earned the distinction for his 40 years of service in the electric utility business and his significant work on behalf of public power.
About his award, Cornelius said, "I've enjoyed my career in public power and have done everything from sweeping the floors to constructing line and managing utilities. I had the good fortune of leading an amazing organization in OPALCO and am grateful to Foster Hildreth who took over the reins. I have confidence in his ability to lead us successfully through the next set of challenges facing the industry—so much so, in fact, that I've signed back on as a Board member to support him and enjoy the ride."
Cornelius began his utility career as a teenager working in a warehouse, became a Journeyman Lineman and then earned his BS degree in Electrical Engineering at Oregon State University. While in Alaska, Cornelius worked extensively on the Blue Lake Hydro Dam and also represented the City & Borough of Sitka before federal and state regulatory agencies for the legislative affairs in his role as electric utility director for the City & Borough of Sitka. Cornelius has worked closely with BPA, Northwest River Partners, and served on various boards including WRECA, ARECA, Southeast Intertie, and NWPPA.
NWPPA is an international association representing and serving consumer-owned, locally controlled utilities in the western US and Canada. NWPPA presents this award to retiring or retired policymakers and managers from member utilities for work performed on behalf of public power.