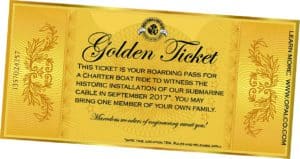 NAME THE NEW SUBMARINE CABLE!
WIN A GOLDEN TICKET TO OBSERVE THE PROJECT UP CLOSE!
In 2017, OPALCO will replace the submarine cable between San Juan and Lopez islands. This is a historic moment for San Juan Islanders! The new cable will increase the reach and reliability of our power distribution and fiber optic communications for decades to come. You can win one of eight golden tickets to witness the cable installation in person in September 2017 as the barge and construction crew carefully lay down the approximately 230 tons of cable.
To enter:
Check out the photos and videos of our new Sumitomo submarine cable and come up with a good name.
Post your name submission on OPALCO's Facebook page (Orcas Power & Light) and tag it #MYsubmarinecable.
Send an email to solson@opalco.com with your name idea along with your full name, OPALCO member number and email address.
Upon confirmation of your member status, Facebook post and complete entry, an email will be sent to the address you provide to confirm your contest entry.
Deadline is 9:00 pm PDT on Saturday, August 19, 2017.