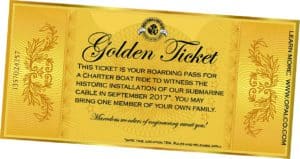 CONGRATULATIONS TO THE GOLDEN TICKET WINNERS!
THANK YOU to the more than thirty OPALCO Co-op members entered a contest to name the submarine cable!  The winning name is . . .
"George Goff Memorial Cable" or "George" for short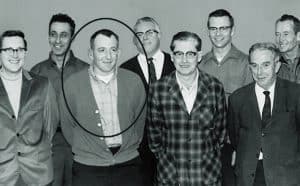 The winning name was submitted by Lisa & Rex Guard of San Juan Island. George Goff was the San Juan District line superintendent for 34 years (1962-1996) and was instrumental in building our reliable electric system.
Seven runners up in the contest won golden tickets for the chance to ride on the charter boat to witness the cable installation up close. The runners up are:
Rick Markov with "OPALCOtopus"
Evangeline O'Sullivan with "Eel-lectra"
Joanruth Baumann with "Ernestine"
Barbara Orcutt with "Kraken Cable"
Laurie Latta with "Mabel the Cable"
Sara Greacen with "Petra"
Jake Perrine with "Jormungandr – Jojo"
The golden ticket winners will get up close on a charter boat when George is installed in the Lopez-San Juan crossing in late September.
Check out these photos from the Charter boat trip with the golden ticket winners!