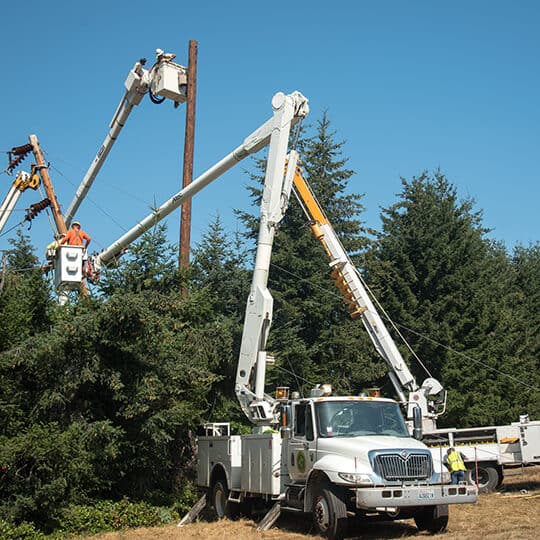 Outage Prep & Safety
Outages happen - be prepared!
During outages – please call 360.376.3500 to report an outage or check www.opalco.com/outages for the latest information on outages. Sign up on SmartHub for text or email outage alerts.
OPALCO continues to improve the reliability of the system. Still, there are circumstances beyond our control such as weather, car accidents, equipment failure and bird or animal events that can cause outages.
When scheduled outages are necessary, OPALCO calls members in the area to be affected in advance.
During unplanned outages, OPALCO updates its phone message and online outage portal as best we can.
To adequately prepare for outages a little bit of planning ahead can go a long way.
Make sure you install surge protection for your electronic, computer and other sensitive equipment. Know where to find your utility shut off (electricity, water, propane) and how to turn them off.  If you have an electric garage door opener, make sure you know how to open it without electricity.
It's a good idea to have an outage/emergency preparedness box.  See the checklist below.
If you suspect an outage is coming, make sure you have your phone charged up and fill up the gas tank in your car.
AFTER an outage has occurred, it's a good practice to turn off sensitive electronics and equipment to protect them when the power comes back on. It also helps OPALCO manage the capacity of our system – it can be difficult to bring everything people have on in their homes up all at once. This can include well pumps. If you can turn your pump off at the breaker, that helps. Once power is restored, turn things on slowly – one at a time.
Because the most detailed information, photos and updates on outages are posted on Facebook, Twitter and on OPALCO's website, we encourage people who don't have a smart phone to find an "outage buddy" who does, so they can share information and check up on each other.
An excellent resource for emergency preparedness is the San Juan County Department of Emergency Management. Check out their resources for being prepared.
Winter Storm Checklist
Make sure you have adequate supplies in case of outages!
Drinking Water
Canned/nonperishable food
Blankets, pillows and clothing
Basic toiletries
First Aid supplies
Prescriptions
Baby and Pet Supplies
Flashlights
Battery-operated clock and radio
Extra Batteries
Games
Phone
Cash or credit cards
Important documents
An outage buddy - someone who has internet and can check on you during storms
Report an Outage
Call 360-376-3599 to Report an Outage.
Use SmartHub to get personalized notifications by text/email – and report outages.