OPALCO's EV Road Trip – Featuring the Switch-It-Up Pup
I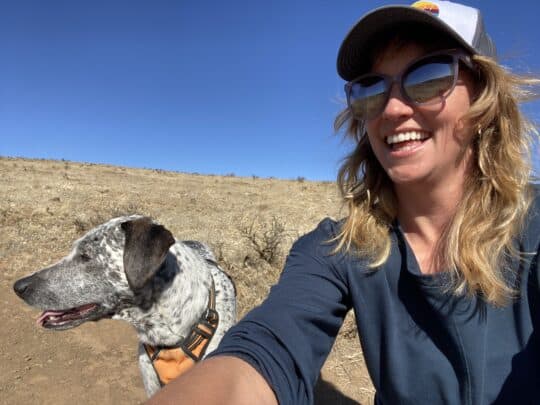 n the Fall of 2021, Krista Bouchey, Communication Specialist for Orcas Power & Light Co-op (OPALCO) set out on a drive through Washington State with her dog, Pepper, in OPALCO's 100% electric Kia Niro. OPALCO is based in the San Juan Islands in Northwest corner of Washington and the EV Road Trip took the team to the less populated east side of the state.
This first (of many, we hope) OPALCO EV Road Trip was designed to demonstrate the power and range of electric vehicles and talk with people along the way about EVs and public power. The itinerary included stops at wind and hydro generating sites, innovative public power projects and – of course – finding and using EV charging stations.
Pepper, a long-time brand ambassador for the Co-op who's been helping OPALCO promote energy savings programs since his puppy years, was excited for the trip. He was promised lots of stops (during charging) that would include walks and treats, two of his favorite things. He was also hoping to make some new friends.
An EV novice herself, Krista had lots to learn, which made her an ideal road trip host. The road trip started with a pre-car check with some more experienced EV drivers on staff to verify the type of charging adapters for this make and model, figure out the range of the car (~ 230 miles), and download apps for finding and accessing chargers along the way. Krista reached out in advance to arrange visits and tours with fellow power providers, interesting public power sites and meet up with other friendly EV drivers along the way.
Day 1: Orcas Island to Cle Elum – 206 miles
Features: Snohomish PUD microgrid, BPA transmission station, Tesla driver interview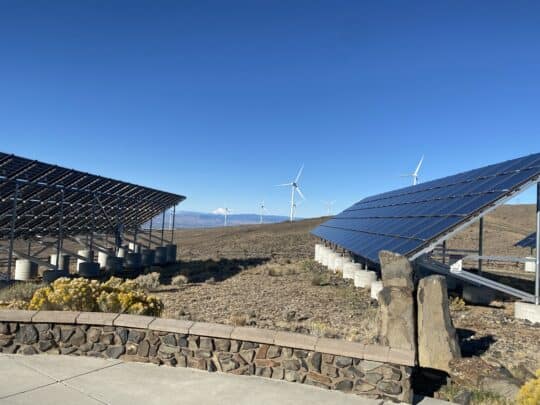 Orcas Island is only accessible by ferry boat, so the first step in the trip was to hop on a ferry to Anacortes, WA. Krista and Pepper stocked up on snacks for the trip and discussed the importance of a gas-free journey (Pepper!).
The first stop was at the Snohomish PUD Arlington Microgrid project. This microgrid has a 500kW solar array, 1 MW/1 MWh of battery storage and features vehicle to grid chargers (V2G). The V2G chargers enable electric cars to be charged and the grid can pull stored energy from the vehicles – essentially making the cars mobile batteries. Pepper got an exclusive tour of the new onsite Energy Learning Center.
Next stop was Monroe, WA to see a BPA transmission substation. During the tour, about 950 MW of power was flowing through to various places on the west side of the state mostly from the Chief Joseph dam. Ready for a charge, the team stopped on Mercer Island having identified a fast-charging station (Level 3) through the PlugShare app. One piece of the learning curve about EV charging stations was that they often required different apps or accounts to use which took a little patience – and nimble thumbs.
They met up with Pepper's cousin, Cleo – an excitable Australian Shepherd who likes to ride tough in her Tesla. They interviewed Paul, the actual driver of the Tesla, about the benefits of EV driving which included the bliss of not knowing the current price of gasoline and the limited maintenance requirements. As a bonus, Paul said he feels good about the carbon free energy he uses to charge his car, thanks to the Northwest hydro system.
At the end of the day in Cle Elum, they charged overnight using a 120v trickle charger. The car comes with an adapter to plug into any normal home outlet but it's a sloooow charge.
Day 2: Cle Elum to Richland – 156 miles
Features: Wild Horse Wind Farm, Solar EV charger, Wanapum and Priest Rapids Dams
The overnight trickle charge was not quite enough to cover their route, so Krista and Pepper started the sunny fall day off with a fast charge at a coffee shop in Cle Elum. Krista needed some caffeine power to stay alert for a packed day of stops and visits.
After getting rock-star parking at the free EV charger at the Wild Horse Wind Farm near Ellensberg, WA, Pepper was invited in for his own personal tour by Chandler (who does two public tours a day, seasonally). The duo got close up to a wind turbine blade – which are ~170 feet long – enjoyed the majestic views over the desert hillsides of the 149 onsite turbines, and checked out the solar array that powers the learning center. They were invited inside the "White Bird" turbine but Pepper declined to join due to his fear of the echo and weird grates he had to walk over to get there but Krista learned a bit more how the turbines work and decided she never wants to climb up those tight fitting ladders the technicians use to maintain the equipment.
After the wind farm, they stopped at the Ginko Petrified Forest Trailhead that had a solar powered charger (Level 2) – and it was free! Next stop was the Wanapum and Priest Rapid Dams where they strolled through an educational park owned by Grant PUD that has an old hydro turbine and witnessed all the giant transmission lines carrying the power from the "Mighty Columbia." They landed in Richland where they were greeted by Pepper's very excited grandma.
Days 3-4: Layover in Richland with local day trips
Features: Benton REA, Horn Rapids Microgrid and family time
The next couple days the EV team visited some local sites starting with co-op friends at Benton REA who led a tour of their new substation site, Community Solar project and more free EV charging at their West Richland office. Krista stopped by the Horn Rapids Solar, Storage, and Training Project. The 20-acre project is a 4-megawatt direct current solar generating array that includes a 1-MW/4MWh battery energy storage system and serves as a training ground for solar and battery technicians throughout the nation.
The whole family drove out to the Ice Harbor Dam on the Snake River. After security checked them into the public area of the dam (no dogs allowed), the museum and walking area was deserted – not another living soul in sight – just the massive infrastructure humming and a small, dark museum where one could stand for hours counting fish if they didn't have a pup waiting impatiently in the car.
As an experiment, they tested out how low they could run the available range down and still feel comfortable. The lowest they got was 32 miles – and it was a little anxiety making – so they decided it was the perfect time to make the stop for lunch rather than pushing it any further.
Days 5: Richland to Orcas Island
Features: charging challenges, exhaustion, and a ferry ride
It was time to head back to the San Juan Islands. With two charging stops planned, the team learned what it means to practice EV patience and flexibility. The first charging station they had charted wasn't working. The area had limited stations, so they had to get creative in finding a working one before driving across the mountains. The second charger they found was full, so Pepper got a nice walk and, after about 45 minutes, they were ready to get started again.
"It was a great experience," says Krista Bouchey. "I live on an island where we rely on ferries for transportation: you just learn to adapt and make good use of your wait times and long ferry rides. It's the same with the electric vehicles: it just takes a little planning and flexibility. It wasn't much of a lifestyle stretch for us. Especially right now, it's wonderful to be able to ignore the price of gasoline."
You can see the full ranges of videos and pictures from the trip at https://instagram.com/orcaspower. You might even learn where to find a life size stuffed bear along the way and, of course, get up close and personal with Pepper, the first canine energy influencer (so he claims).