OPALCO Member Story: Meet Sofi – Loving Her New All Electric Ride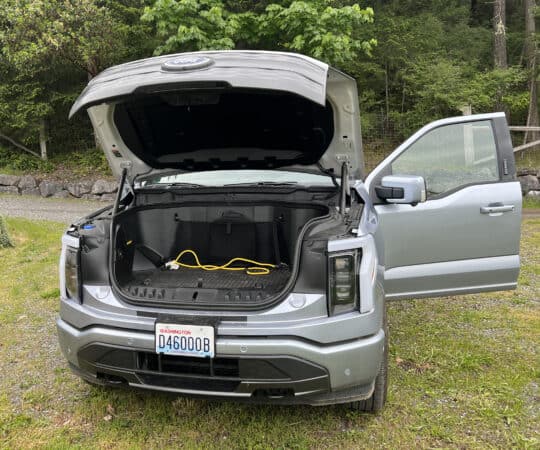 Sofi aka Queen of the Universe is the first pup in the San Juans (that Pepper knows of) to get a Ford F-150 Lightning truck as her main napping spot. Sofi is a 14-year-old Border Collie rescue who lives on Buck Mountain on Orcas Island.
The Ford F-150 Lightning is Ford's all electric truck that can act as a backup power source for your house, power up your tools when you aren't close to an outlet (it even has 220v plugin) and offers plenty of space for you and your best dog friend.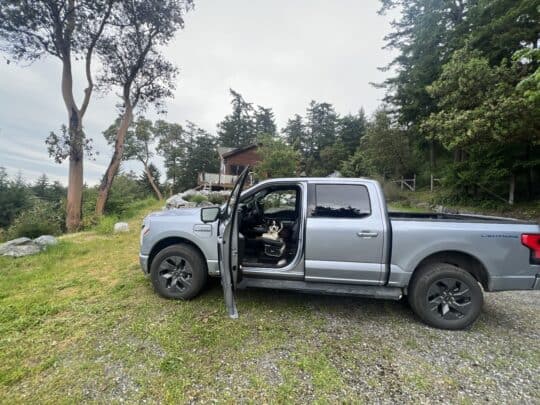 Sofi and her owner, Tom Owens moved to Orcas Island full time during the pandemic. Tom discovered the San Juans in 1985 while doing earthquake research on the Cascadia Subduction Zone. He was an island visitor for decades and bought his home back in 2018 but it was COVID that pushed him into retirement giving him the opportunity to live here full time. Tom has owned several Ford vehicles throughout the years and finds them comfortable and reliable. Tom was a professor of Geophysics at the University of South Carolina. He was used to powering remote earthquake monitoring stations with solar, batteries and electricity so the idea of an electric vehicle was a natural fit.
When Tom heard about the Lightning release in May 2021, he hopped right on and put himself on the very long wait list. He expected it take nearly a year after ordering to get the truck he wanted. However, within a couple of days of placing his order in December 2022, he got a call from the dealer that there was a Lightning that someone else was passing up. It wasn't the exact version he wanted but it was close enough. He went for it.
Tom is enjoying learning the ins and outs of being an electric vehicle driver. He recently went on a road trip and wasn't super impressed with his Walmart stops. He hopes the charging infrastructure evolves into something more like rest stops. It should be noted that Sofi was particularly unimpressed since she doesn't love the parking lot as a walking spot – after all she is now an island dog who is used to beautiful green woods and pristine beaches. It cost around $0.48/kWh at the DC fast charging stations on the road, but it is only ~$0.12/kWh for charging at home (~$12 for 200 miles).
Overall, Tom is thrilled to not have visit the gas station, "It is perfect for driving around the islands where I only go a few miles at a time." His model gets approximately 220 miles to a charge. He uses the "Level 1" 110v charger now, which can only add about 30 miles of range overnight, enough to support his "retired guy" island lifestyle. He recently purchased a Level 2 fast charger that can fully charge the battery overnight (and is eligible for an OPALCO rebate!). He is still working to get an electrician to install the Level 2 charger – until then, his kind neighbor lets him use a Level 2 charger when full charges are needed. Sofi likes how quiet it is and enjoys her rides to dog agility class in her slick, new ride (Pepper was very impressed though he is advocating for a Tesla with pet mode – he has been told to get a job. Pepper is currently advertising as a Professional Hole Digger – specializing in easy to dig garden beds).
Check our OPALCO rebates at www.opalco.com/rebates and our Electric Vehicle resource pages at www.opalco.com/save/electric-vehicles/.