What Your Bill is Based On
What Your Bill is Based On
OPALCO uses a cost-of-service financial model. As a cooperative, we aren't beholden to investors to generate a profit, because we are beholden to our members to run a financially stable energy services co-op. What you pay for is your energy usage plus the cost of those energy services.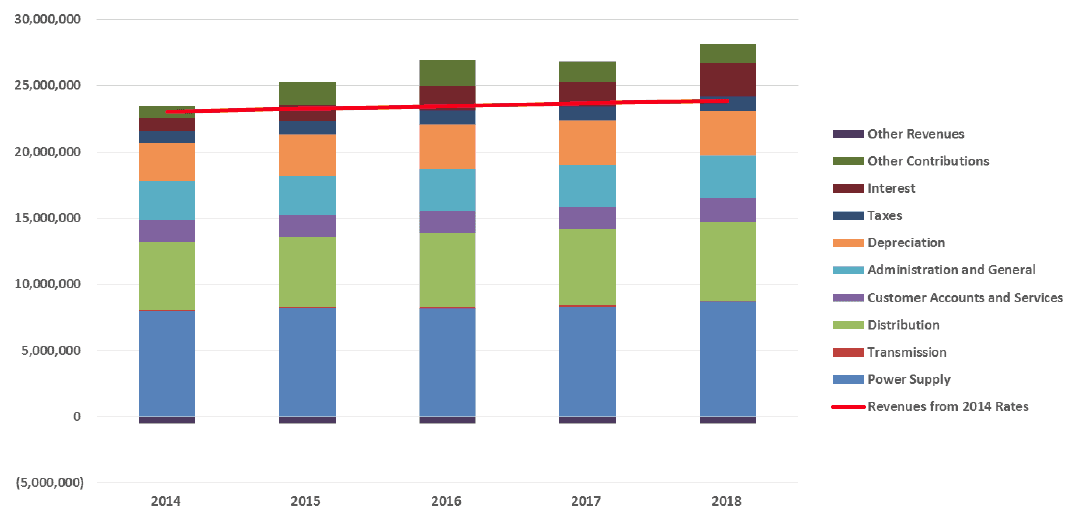 As you can see in the Revenue Requirements graph, costs for your energy services include everything from the power supply expense (what we pay to Bonneville Power Administration), depreciation on our capital expenditures (trucks, infrastructure improvements, submarine cables), taxes, interest on loans for capital projects, and administration (the folks who bill you, who maintain the lines, who drive the trucks, install your services and run the Co-op).
These combined costs allow the Board of Directors to annually set a base for fixed expenses, what appears on your bill as the Facility Charge, and then set the rate you pay for usage to cover the variable cost of power.
To see more about your actual bill components, see Understand your Bill. To learn more about OPALCO finances, attend a Board Meeting or view the many financial documents in our Resource Library. Get more information about your bill by visiting the Pay Your Bill section of this site.