Local Apprentices Become Journeymen Lineworkers: Keeping the Lights on for the Next Generation of Islanders!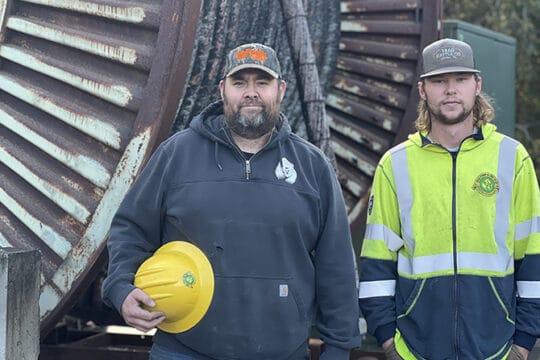 Ken Bair and Rio Black, both graduates from San Juan Island High Schools, started as apprentices for OPALCO's crew in 2019. They will become full Journeymen in February 2023. Becoming a Journeyman Lineworker is no small task. The apprenticeship is a structured four-year program that includes bi-monthly trips to the mainland, testing every six months, plenty of after-hours studying and boot-camp style training courses at a specialized camp in Oregon.
Journeymen Lineworkers must be prepared to work outside in all weather conditions, keep themselves safe in a high-voltage environment and make the commitment to stay focused on this intensive program more than four years, while also learning on the job.
During the training period, apprentices must work full time (8000 hours) and advance through the seven steps of the program. Apprentices install, maintain and repair power lines, identify defective equipment, climb poles and work long hours to restore power.  They must follow the strict set of safety standards and procedures. They also master a wide variety of skills including electrical work, operating heavy machinery, rigging, hand tools and more.
Ken Bair, who is doing his apprenticeship with the Lopez crew, lives with his wife and his son. Ken says, "I like the stability, working with the community and to be able to fix this thing that everyone is dependent on." Ken grew up on Lopez and graduated from Spring Street International School. He worked for many years at various other jobs on Lopez before getting the apprenticeship.
Most apprentices spend the four years on call and working as many late-night outage calls as they can. Some of the most extensive learning happens when the crew rallies together to solve the mystery of an unplanned power outage. The apprentices work closely with more experienced journeymen linemen on the crew for many long, cold hours gaining knowledge and the learning the satisfaction of getting the power back on.
Rio Black is the apprentice for the San Juan Island crew and joined the team shortly after he graduated from Friday Harbor High School. Rio likes the fact that he gets to work outside every day. "I wanted to have a future on the island – it's a good island job."
OPALCO has two new apprentices who started in 2022 – Brant Aker (Orcas) and Daniel Irby (San Juan). OPALCO goes through a highly competitive hiring process for the apprenticeship program.  When possible, OPALCO prefers to hire from a local pool of applicants to provide living wage work to our own community members. This is one of the critical ways the Co-op supports its membership.
"We lucked out!" says Hildreth, "These apprentices are top notch, island-grown kids and now they are the future of OPALCO. We feel very fortunate to have such a stellar team." This cohort of apprentices will be providing power for many years to come on the islands (one of the apprentices could make it all the way to 2062).