Follow OPALCO's EV Road Trip in October: A carbon-free adventure!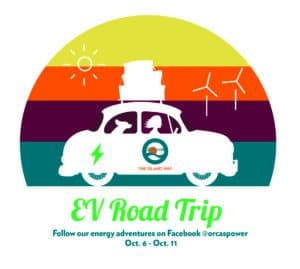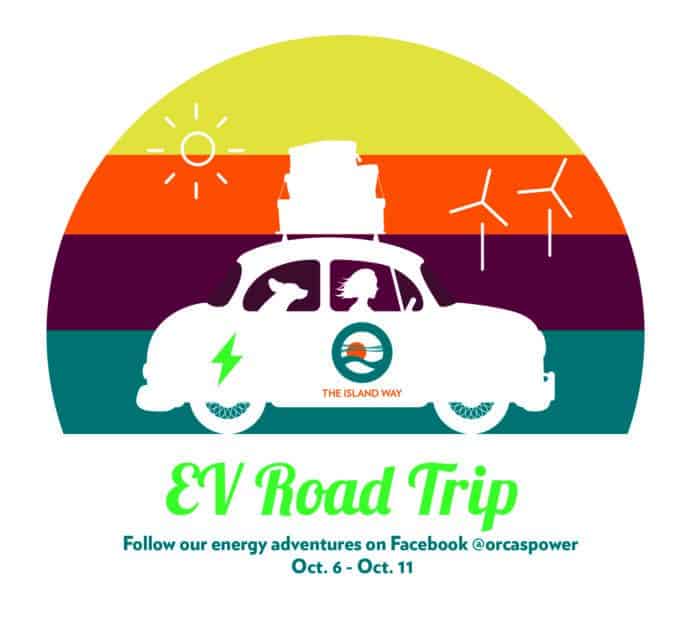 Starting October 6th, an exclusive team from OPALCO (Communication Specialist Krista Bouchey and the "Switch it up pup" Pepper) will be driving the Co-op's Kia Niro 100% electric vehicle (EV) to Eastern Washington and back, making stops to visit wind and hydro projects, innovative public power projects and – of course – EV charging stations along the way. The purpose of the EV Road Trip is to demonstrate the power and range of electric vehicles and talk with people along the way about EVs and public power. Follow the journey in videos, photos and (COVID safe) parking-lot interviews on FaceBook at @orcaspower, and also on OPALCO's This Electric Life Blog at www.opalco.com.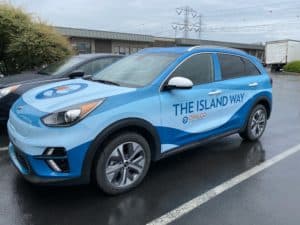 "This is a big learning curve for me," said Krista, who still drives a gas-powered car at home.  "We've got it all mapped out, but Pepper and I have to be ready for anything – I've never even charged at a public charging station before! Hopefully, we'll meet some good people along the way to help us out. It's going to be a fun adventure!" 
To prepare for this carbon-free journey, Krista used the ABRP (a better road trip planner) and Plug Share apps on her phone to find EV chargers and chart a course that works with the range of the Kia, which is about 230 miles per charge. This was challenging when trying to get to hydro projects in remote areas!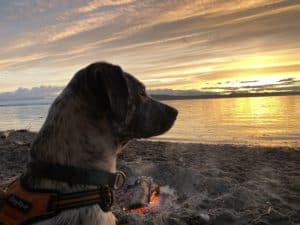 The trip begins – as all island adventures do – with a ferry ride to Anacortes and the itinerary includes:  
Day 1: Tour Microgrid EV Charging Plant at Snohomish PUD and Tour BPA transmission station in Monroe, Charge on Mercer Island, Interview Tesla driver

 

Day 2: Tour Puget Sound Energy's Wild Horses Wind Farm in Ellensburg

 

Day 3: Tour Horn Rapids Solar, Storage, and Training Site and Benton REA project with Joel Mietzner

 

Day 4: Priest Rapids dam and Wanapum dam 

 

Day 5: Make it back to the islands (280 mile stretch)

 
Switching to electricity for transportation is key to addressing the climate emergency and a critical piece of OPALCO's Island Way Campaign to build a sustainable energy future for the islands. Transportation accounts for 45% of all carbon emissions in Washington State and an average of 53% of all consumer total energy expenditures. Electric vehicles save at least $1,000/year over gas-powered cars, reduce total energy spending and carbon impact. OPALCO has online tools to help calculate your carbon emissions, compare models (new and used) and project your savings with an EV: https://energysavings.opalco.com/energy-savings/electric-vehicles-evs/.  
OPALCO's Island Way campaign is here to help co-op members prepare for the energy future that is coming FAST. The climate emergency and Washington Clean Energy Transformation Act (CETA) are driving a transition away from fossil fuels. OPALCO has a plan to build microgrids throughout the islands for local energy resiliency and to explore renewable generation options on the mainland that offer members affordability and reliability. OPALCO has tools, rebates and resources to help members make wise use of electricity.