Are you ready for power outage season? Winter is coming! OPALCO can help you prepare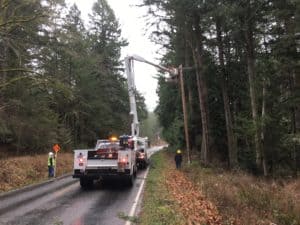 As we approach the winter storm season, it is a good time to think about being ready for potential power outages: replenish your battery supply, fill up your gas tank (or charge up your EV) and make sure your phones and computers are fully charged – and you should know what to do when the power goes out.
First things first:
Call OPALCO at 360-376-3599 to report the outage – or use your SmartHub account.
Take a look around you: are others also out of power? If not, check your breakers.
Grab a blanket and your flashlight. You can check outage updates by calling back or using your smartphone to access our Outage Center: www.opalco.com/outages (map updates every 10 minutes).
Turn off sensitive electronics and equipment to protect them when the power comes back on. Leave one light on to let you know when the power's back up!
Where can you find information about power outages?
During an outage, OPALCO posts updates on the phones, the webpage (www.opalco.com/outages), Facebook and Twitter.
Your OPALCO Smarthub account will give you specific information about how your meter was affected during an outage. You can also sign up for text or email alerts during outages through SmartHub.
If you don't have access to the web during an outage, set up an "outage buddy" – someone you can call during an outage who can access the web to give you the most up-to-date information.
What supplies should you have on hand during an outage?
Drinking water and canned/non-perishable foods
Blankets and warm layers
Flashlights, candles or battery-operated lanterns
Battery operated clock and radio
Extra batteries
Board games, books and cards
How long does it take to restore power in the San Juan Islands?
Each outage is unique – and many of our outages occur on the mainland and depend on the work efforts of other utilities.
It is difficult to estimate restoration times. Restoration is estimated by the crew in the field as soon as they are able.
OPALCO tries to quickly determine a rough time frame of less than or more four hours to help members understand the duration and reports that info as soon as it is available.
With 20 islands to cover, travel can delay restoration times – especially at night and during inclement weather. OPALCO has crews stationed on three islands and keeps some equipment and supplies staged on many other islands.
Check out our video: "Why do Power Outages Take so Darn Long?"

Also, make sure sensitive equipment is plugged into surge protection, check that your generator is serviced and ready to use and let us know if you see trees or bushes growing too close to the power lines. Learn more at OPALCO's Safety Center: https://www.opalco.com/safety-center/.
Power outages are challenging for everyone! With some preparation and by putting safety first, our island communities will continue to thrive through the winter months. Contact us with any questions: communications@opalco.com.