Doty's Marketplace Goes Solar!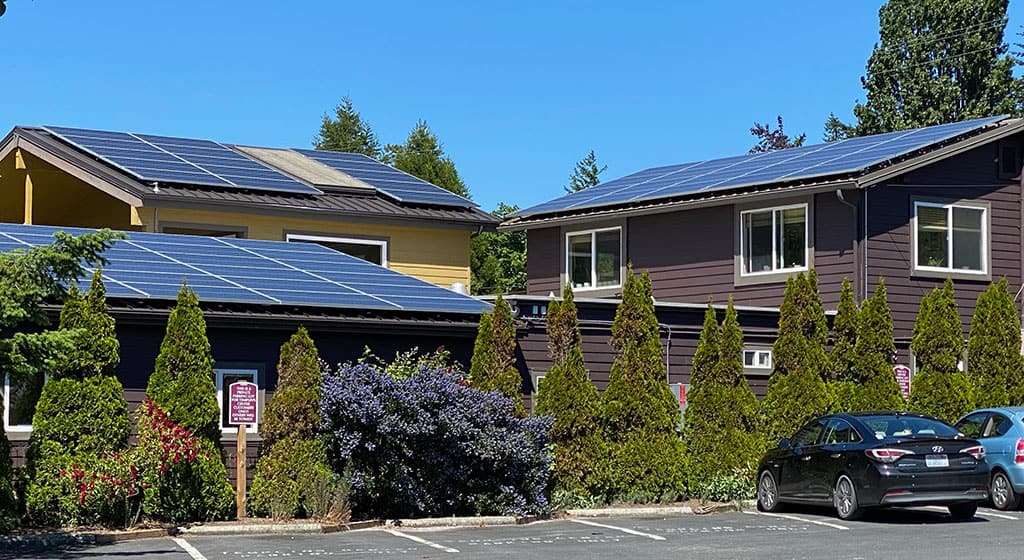 Patty Miller moved to Orcas Island in 1971 when her family bought a small seasonal diner and turned it into one of the few year-round restaurants on the island. You knew it as the A-1. One building became two, then three and four: the "compound" has grown and evolved over the years as the needs of the community have changed. The most recent evolution is producing alternative energy with solar panels on five roofs covering four buildings. "Doty's Marketplace is more than a business," says Miller, "it's my childhood home."
Doty's Marketplace currently houses the Orcas Food Co-op (who has grown to occupy several buildings) and Shearwater Kayak Adventures, who have been a tenant since 2002. Miller calls the compound a "labor of love" for the past 40 years and has worked hard to maintain the character of the village while still meeting the needs of the current businesses. "At first, I was a little concerned about how solar would fit into the village – but the panels blend in naturally and I hope it sends a message to all about our commitment as islanders to building a sustainable energy future. Putting the energy in to be more thoughtful of the sensitive nature of our environment is contagious!"
Miller first looked at solar in 2017 when Learner Limbach, Orcas Food Co-op General Manager introduced Miller to Rainshadow Solar.  At that time the cost of the system, even with the incentives offered, did not have an adequate return on investment, especially with buildings that had aged roofs. In 2019, with encouragement from friend and fellow business owner Rick Hughes, the time was right. "Rick connected me with Sustainable Connections who, together with Rainshadow Solar, helped me to learn about the federal grants and incentives available now. The team at Sustainable Connections were such a great help! They provided support and technical expertise throughout the project and helped me get a successful REAP grant application – which covered 25% of my project."
Solar isn't the first efficiency measure Miller has installed in the Marketplace compound – and it won't be the last. With OPALCO's help and rebates, all the lighting in the Co-op has been replaced with super-efficient LEDs and she recently got another grant approved through Sustainable Connections to upgrade the heating source to a ductless heat pump in one building. She is also looking into installing EV chargers with OPALCO current rebates and on-bill financing.
"OPALCO, Rainshadow Solar and Sustainable Connections really work well together to help you through it," said Miller. "At first, the project can seem a bit daunting with all the grant applications, tax credits and paperwork – but I always felt like someone was there to help me each step of the way." Miller tracks the solar production on her OPALCO bill and is learning to use the Enphase Enlighten software to monitor performance of the solar array and watch how much energy usage is offset by solar production. "It's fun! – and it just feels good."