In September of 2017, OPALCO installed 13,596 feet of submarine cable that will operate at 69 kilovolts in the crossing between Lopez and San Juan islands. This armored cable, manufactured by Sumitomo USA, replaced the existing 1977 cable, also made by Sumitomo. With layer upon layer of protection built in and the high quality of manufacturing, OPALCO expects this cable to provide more than 50 years of service.
OPALCO members named the cable the "George Goff Memorial Cable" or "George" for short. George Goff was the San Juan District line superintendent for 34 years (1962-1996) and was instrumental in building our reliable electric system.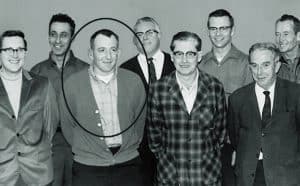 The new submarine cable carries both power and fiber cables. Fiber is now an integral part of OPALCO's automated electrical distribution system, and equipment on either end of the cable uses the fiber to monitor and protect the cable itself. "We depend on fiber throughout our 20-island system to monitor power quality, identify faults and open and close circuits to reroute power during outages," said Joel Mietzner, System Engineer. He credits the foresight of OPALCO's leadership and engineering teams for their decision to go with fiber optics back in 1999 and notes that this crossing is one of the last places in the entire system where fiber isn't installed.