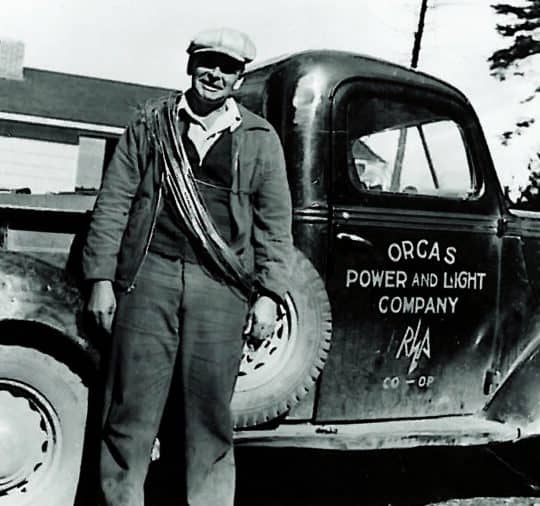 Our History
Energizing Island Life Since 1937
Islanders with Grit Built the Co-op
Before OPALCO was founded in 1937, islanders made do with generators, Delco battery plants and very few modern conveniences. A group of 12 Orcas men heard about the Rural Electrification Administration (REA) and went farm to farm, door to door to try and convince their neighbors that bringing electricity to the island would make their lives better. The Co-op was started with a loan from the REA and the cost to join was set at five dollars. A membership still costs five dollars today, and the Co-op now provides power to 20 islands with a reliability rate of greater than 99%. The Co-op is still owned and operated by the islanders who depend on it to power their lives.
President Franklin D. Roosevelt created Rural Electrification Administration
OPALCO founded on Orcas Island
Diesel power plant completed on Orcas Island for a total of $150,000. Power was turned off at 10pm each night until 1940 when an expansion was completed.
OPALCO purchased: Friday Harbor Light & Power and the Riviere property on Lopez Island, for a diesel plant
OPALCO connected to mainland power as BPA submarine cables energized. Shaw Island system energized.
Four submarine cables installed in Lopez to San Juan crossing
OPALCO survived the WPPSS debacle
OPALCO workers unionized through the IBEW
Island #20 energized: Armitage Island
OPALCO storm abatement program began to underground system after back-to-back 100-year storms devastate islands
First two electric vehicle (EV) added to OPALCO fleet: GM G-van and Solectria Force. First EV chargers installed. Green Power program began.
OPALCO installed fiber optic network for internal communications; Island Network established
OPALCO's Island Network opened fiber network to provide internet services to public agencies
OPALCO began electrifying its fleet with a Nissan Leaf and updated EV chargers in San Juan County
Century Link cable failed leaving San Juan County without internet, phone or 911 service
OPALCO purchased Rock Island to provide broadband to San Juan County
Rock Island Communications, a wholly owned subsidiary, provides internet services to 50% of San Juan County