MORE Local Power: S&S Homestead Farm on Lopez Island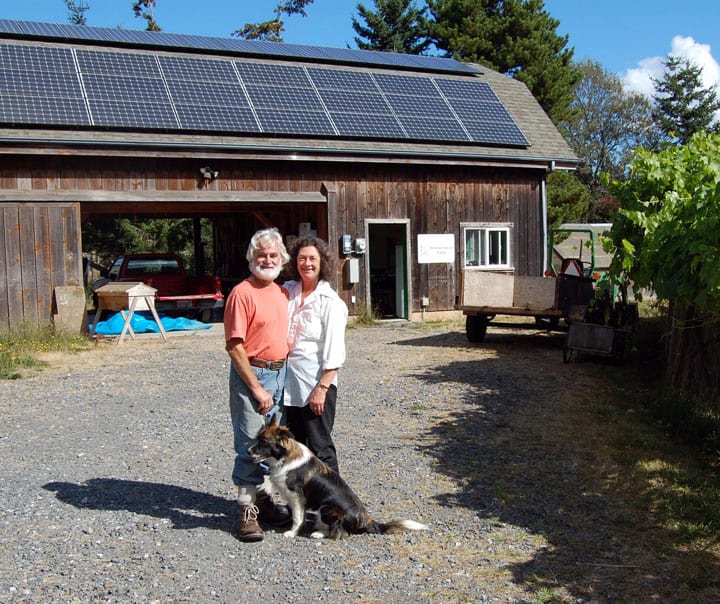 Henning Sehmsdorf and Elizabeth Simpson produce everything they need—including electricity—to sustain their 50-acre farm and the community that depends on it. In 1970, Sehmsdorf purchased the first 10 acres of his farmland on Lopez Island and created a fifty-year plan for a bio-dynamic and sustainable farm. The vision is to produce all food, feed, seeds, animal replacements, timber/lumber, water and energy necessary to sustain the farm and the people who live there. In late 2011, the final piece of the farm plan was implemented: self-sustaining energy.
Sehmsdorf and Simpson worked with OPALCO's MORE (Member Owned Renewable Energy) Program and Whidbey Sun & Wind to install a 74-panel photovoltaic system with a nameplate capacity of 16 kW. As of mid-September, about nine months into the first year of production, the system has already produced 15,860 kWh.
OPALCO's MORE Program collects voluntary donations from co-op members on their monthly electric bills to support MORE producers, like S&S Homestead Farm, with annual incentives based on the total amount of energy they produce. An independent committee of OPALCO co-op members manages the process and approves MORE Producer applications and incentives. In addition to local MORE incentives, there are State and Federal tax incentives, rebates and credits available.
"Elisa Howard at OPALCO and the engineers at Whidbey Sun & Wind were very good in helping us to understand this complex system and the net metering structure," says Sehmsdorf, adjunct professor with WSU Center for Sustaining Agriculture and Natural Resources, and a full-time farmer since 1994.
In planning this project, Sehmsdorf and Simpson set out to reduce the farm consumption by half and produce as much electricity as possible. To reduce consumption, they replaced their home's electric floor heating system with a very efficient woodstove. They also de-activated a less efficient fireplace insert and replaced incandescent bulbs with CFLs. The fuel for the woodstove is realized from their own by-product supplies of waste lumber and timber from the farm. They have been able to meet the farm's consumption needs with their PV system since May of 2012 and the net surplus in energy production is stored on OPALCO's grid, banked as a credit and paid out each year in April.
"Debt has no place in the farm plan," says Sehmsdorf, which is why it took them nearly 42 years to realize the energy piece of the plan. The initial investment of about $86,000 was paid in cash. S&S Homestead Farm received their first MORE Producer incentive of $2,935 in August (plus the Washington State Incentive of $1,468) and expects to receive a total of $33,389 in combined incentives and tax rebates/credits in 2012. Sehmsdorf has calculated a complete return on investment over ten years, which is much shorter than most systems because of the lack of debt service.
"The annual financial return is about 9.5%," reports Sehmsdorf, "better than the stock market or any other investment today. But," he continues, "when you consider only the financial benefits, you are missing the point."
When asked what small scale renewable power means to the islands, to the world, Sehmsdorf responds, "Sine qua non. Without which nothing." He pointed out the C02 sequestration readings on each of his three inverters. By this measurement, the S&S system has sequestered more than 25 metric tons of carbon to date. "This is a practice we must adopt as a culture to make progress," he states with professorial authority citing Bill McKibben's recent article on the urgency of carbon accountability, "Global Warming's Terrifying New Math."
In keeping with the mission of the farm to provide "education in ecological farming and sustainable living," the farm's energy system is now an integral part of the S&S Center for Sustainable Agriculture demonstration project that engages schoolchildren (K-12) on Lopez as a part of their regular school day, provides a well-established intern and apprenticeship program for college students, and offers workshops, farm tours and farm stays.
In August, OPALCO's MORE Program paid out incentives totaling $18,494 to 25 local MORE Producers, who generate solar and wind power interconnected to the Co-op's distribution grid. With 80 local renewable generators in the system now, the total energy production for the 2012 fiscal year (July 1 – June 30) was more than 200MWh – enough to meet the power needs of about 166 island homes for a month.
Not everyone can wait decades to save up for a renewable energy system and, as Sehmsdorf points out himself, the benefits and urgency of renewable energy are deeper than the financial equation. There are a number of ways that co-op members can participate with MORE:
1) Support MORE by purchasing blocks of green power on your monthly OPALCO bill.
2) Go all green and add a $0.04 per kWh premium to your monthly OPALCO bill.
3) Become a MORE Producer and grow your own energy. OPALCO has partnered with Islanders Bank and the Get Connected loan program to help with financing.
You can learn more about MORE online – or call 376-3500.