2015 Election and Annual Meeting Results
ADAMS AND CORNELIUS WIN OPALCO ELECTION, RECORD VOTER TURNOUT, BYLAW AMENDMENT VOTED DOWN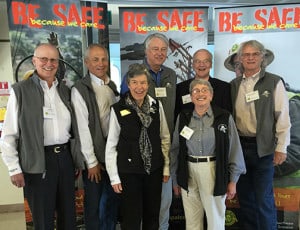 OPALCO members boarded the ferry on Saturday for the 2015 Annual Meeting and Board of Directors' election after the Co-op received a record 2,758 total ballots (2,687 absentee, plus 71 on the ferry) representing 24% of the membership. The successful candidates were incumbent Winnie Adams and former OPALCO General Manager, Randy J. Cornelius for District 2, representing Orcas, Armitage, Big Double, Blakely, Fawn, Little Double and Obstruction Islands. The member-initiated bylaw amendment was unsuccessful by a small margin, with 1,324 voting no and 1,191 voting yes. Guests joined the 229 members present aboard the WSF Hyak for a total of 337 people in attendance.
OPALCO members enjoyed a healthy and delicious bag lunch by Asher & Olive of Orcas Island. The 2015 Nourdine Jensen Cooperative Youth Scholars were announced. Students Ray Doss (OI) and Robby Miller (SJI) were recognized at the meeting and the three other students, Seda Guckian (SJI), Michaella Marebe Ibambasi (SJI), and Anthony Kaskurs (OI) were unable to attend because of SAT testing. Each will each receive a $500 scholarship and an all-expenses-paid trip to the Youth Rally Co-op Leadership Camp at the College of Idaho this summer.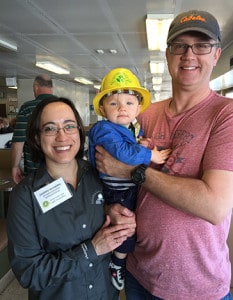 General Manager Foster Hildreth acknowledged this difficult year of transition and the impact that the rate increase has on all members. "I'm committed to assessing the needs of our most vulnerable members and will propose a rate relief program in time for the next budget cycle." He expressed his enthusiasm for our new Internet entity, Rock Island Communication and shared his vision for a connected and vital community that includes "a healthy economy and environment, access to jobs, education, health care and emergency services." Quickly recapping the previous big decades of OPALCO: the 60s as the first era of submarine cable installations, the 90s as the era of under-grounding our system, Hildreth called for the membership to step up this generation's task and "join forces to build out our grid in preparation for the future while ensuring our financial sustainability and system reliability."
Hildreth praised the work of the OPALCO board and staff during this challenging time of navigating significant change. He concluded his remarks by answering many of the questions we are hearing from our membership, especially those concerning rates and the Rock Island acquisition. Questions and comments collected from members in attendance at the meeting will be posted on our website soon. "Between our website and our monthly e-newsletter the Co-op Connector," said Hildreth, "we are dedicated to keeping our members informed."
The names of six members who sent in their absentee ballots were drawn for $50 credits on their next OPALCO bills. The six lucky winners are Pat Ball, Richard Nicholson, Smugglers Cove Water Users Association, Virgil Hennen, Gordon Fowler and Michelle Novak. OPALCO congratulates these members and thanks everyone who voted by absentee ballot.
Door prizes were scaled back from prior years in response to OPALCO belt-tightening measures. OPALCO vendors donate many of the prizes, while OPALCO purchased others. Items handed out to thank the members in attendance included local goods, energy efficiency tools, solar clothes dryers, a Shop-Vac, George Foreman grill, a Nest smart thermostat, Dremel rotary tool, and many yard and garden tools. The focus this year was on more bill credits and fewer prizes.
OPALCO is required by the Rural Utilities Services (RUS) to hold an annual meeting each year and must have a quorum of 100 members in attendance. Copies of the publication are available in our Eastsound and Friday Harbor offices as long as supplies lasts.