UTLITY POLES GOING UP FOR FIELD COMMUNICATIONS AND PUBLIC SAFETY
OPALCO and Rock Island are making progress on our promise to improve wireless communications in the field for our line crews and for all first responders. The first five poles have been installed throughout the county, and the remainder (about 38 total) will be completed over the next 12-18 months. These poles will be equipped with radios that will utilize our 700 MHz LTE spectrum to transmit field communications to first responders, electrical system devices and, eventually, end-user Internet connections.
"We have a very skillful and dedicated EMS community in San Juan County," said Dr. Michael Sullivan, San Juan County EMS Medical Program Director. "But until we improve communications in the field for our first responders, we are limited in our ability to serve those who need us. OPALCO's commitment to solving this problem is tremendous – no one else has been willing to step up. With the wireless infrastructure in place, everyone will benefit from improved communications and safety."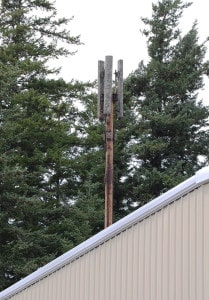 The County Joint Use Wireless Facilities code prescribes the specifics for implementing the installation of these poles: they must be less than 150' in height and colored to blend in with their surroundings. Placement of all poles is guided by a Radio Frequency study and existing county road easement locations.
The average height for all of the planned poles is around 80' – significantly lower than allowed by the County code. Five poles have already been installed at the following locations: OPALCO's Eastsound office (OI), Spring Point (OI), Mineral Point (SJI), Cape San Juan (SJI) and Cape St. Mary (LI). Other locations will be announced as they are confirmed.
This is a great example of how the two entities, OPALCO and Rock Island, will work together to leverage their resources to maximize the benefits of our cooperative grid control network. In this case, OPALCO is expanding our grid (electricity, fiber and system devices) and deploying the licensed frequency that we purchased in 2014 to reach further into the field. Rock Island is managing the construction and deployment of equipment to utilize the wireless spectrum.
Once the primary goals of field communication and public safety are achieved, Rock Island will begin to offer fixed wireless Internet connections to a limited number of members within range and is in the early stages of development with a vendor who may be able to extend the reach of LTE services in San Juan County.
Fiber connections will always be the first priority for Internet subscribers, as they provide the greatest capacity, but wireless connections will be reserved for members where fiber installation is not feasible.