Member Story: A New Energy Efficiency Leader in the Heart of Eastsound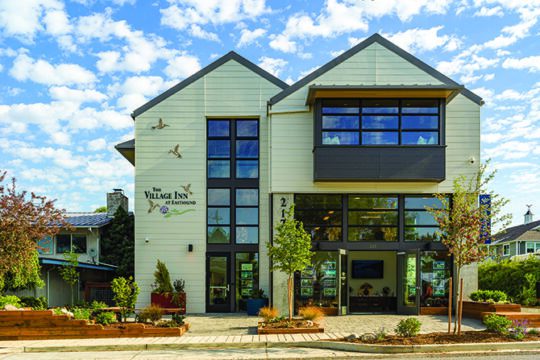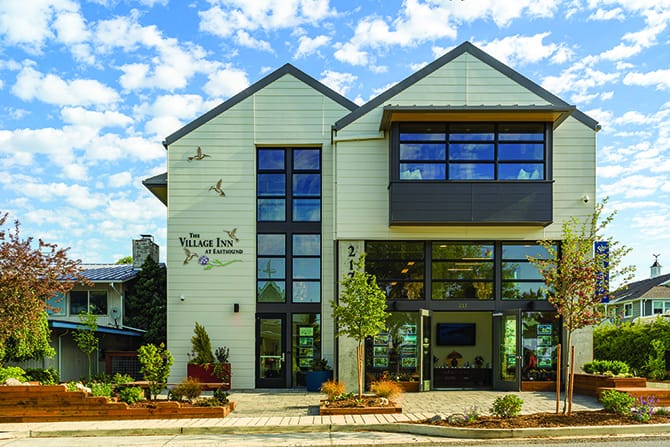 There's a new building on the block. Right in the middle of Main Street in Eastsound on Orcas Island, the new building that houses the Windemere Real Estate office and The Village Inn is a model for sustainability and efficiency.
Five years ago, Mariah and John Dunning had a vision for this project. They took their time to develop it thoughtfully, responsibly, and in a way that aligned with their values and island aesthetics.
The building opened for business earlier this year. The building is oriented to make best use of natural light and designed to optimize efficiency with energy-savings products, such as LED lighting that operates on a timer or motion sensor, ductless heat pumps and blanket insulation for the exterior walls.
The forward-thinking building uses ethically sourced materials, such as carpet made from recycled water bottles, sustainable or fair-trade wood; metal doors frames from salvaged cars; and fabrics that are 100% made in the United States. The products used inside the building are well-researched and eco-friendly, including biodegradable, bee-friendly toiletries; and a water bottle refill station available for anyone in Eastsound to use.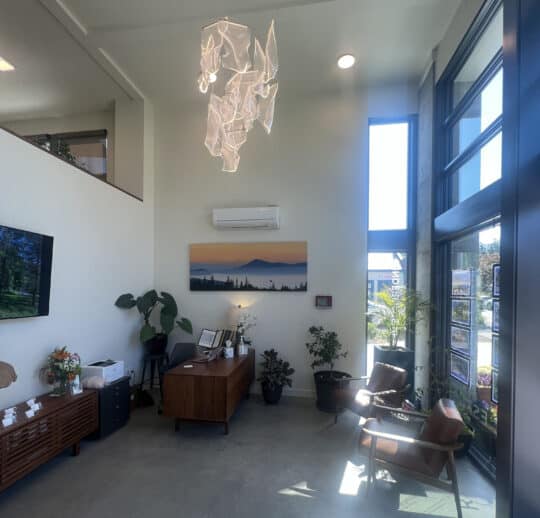 It took about three years to permit and design the building. Construction began in early 2020, which coincided with the COVID-19 pandemic. The pandemic slowed things down significantly, and costs began to rise. This pushed the Dunnings toward OPALCO's on-bill financing program for the insulation, windows and ductless heat pumps.
"As we watched costs go up during COVID, we worried we were losing the ability to achieve our project's progressive goals for efficiency and sustainability," Mariah says. "OPALCO's Switch it Up Program was the solution. Being able to finance the project at such a low interest rate allowed us to stay on track with our vision. We want to do right for future generations of islanders."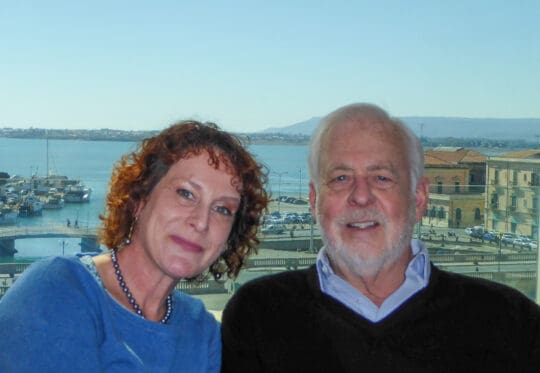 Mariah and John got married six years ago but have known each other for decades.
Mariah graduated from Orcas Island High School and came back to the islands in her 20s to help her parents at Radio Shack. From there, she started working in real estate. She has a daughter in middle school at Spring Street International School.
John grew up coming to the islands as a child and became a full-time resident in the late 1990s. He first lived on San Juan Island and moved to Orcas in 2014.
The couple wants to make the world a better place for future generations and do what they can to improve things for the environment. They started seeing the impact of consumption on a larger scale through their vacation rental business, Northwest Island Escapes, and began investing significant time in finding products that reduce the footprint of people visiting the islands.
"It may be slightly more expensive to purchase these products, but it's worth the long-term investment for the Earth," John says.
The couple loves working together, and this project is a real culmination of their life together. They have traveled around the world, and wanted to make sure all the rooms at the inn had good lighting, comfortable beds and could accommodate the whole family, including pets. The parking on the bottom of the building includes four electric vehicle charging stations, and the outside lighting is wildlife friendly.
All details of this project are thoughtful, well-researched and implemented with future generations in mind. Feel free to stop by and check out the building and get a refill on your water bottle when you're in the neighborhood.
Find out more about OPALCO's on-bill financing program Switch It Up for commercial businesses by emailing energysavings@opalco.com.