Islanders Brace Through Second County-wide Outage on Christmas Eve
At 8:30 am on Saturday, December 24, all of San Juan County lost power again – after experiencing a county wide outage only the day before. An OPALCO engineer happened to be driving through Anacortes and saw a flash as equipment failed on the transmission feed that serves San Juan County. He stopped to document and report the damage to the equipment and was able to get a video of the equipment failing from a neighbor (shared on OPALCO's Facebook page). This was the same power pole where equipment failure caused the previous power outage on December 22-23.
By 2:40 PM, Puget Sound Energy (PSE) had completed the repairs on the transmission line. They replaced two jumpers and an insulator (in addition to the jumper they replaced on 12/23). By 5:30 pm Christmas Eve, all in San Juan County had their power fully restored.
Where do you go for outage information? OPALCO has noticed misinformation being spread about the cause of the recent outages. Please get your information directly from OPALCO as other sources can provide misleading or inaccurate information. OPALCO provides regular updates on its website (www.opalco.com/outages), on the phone system (360-376-3500) and on Facebook and Twitter social media channels. Members can even sign up for notifications on their location through SmartHub.
The cause of an outage is difficult to communicate while the crews are in the field making repairs under extremely challenging conditions.  OPALCO is still investigating all the issues related to the outages that occurred last week and, since the equipment was on transmission lines operated by PSE, OPALCO will need to get the information from them (as a note the mainland is recovering from the most recent storm and more than 170,000 meters have been restored by PSE over the last couple days). OPALCO maintains strict protocols following an outage to document and follow-up on any further maintenance needed on the system.
As the recent county-wide outages demonstrated, OPALCO's transmission system is dependent on mainland facilities owned and operated by PSE and Bonneville Power Administration (BPA) and, working with this system, OPALCO's maintains a reliability rating of 99.87% (2021). When outages occur, OPALCO works closely with PSE and BPA to get the system back up and running. However, during a major storm event like we experienced last week, PSE had hundreds of thousands of consumers out of power and it took longer than expected to get our lines repaired. OPALCO would like to have a redundant transmission line for emergency disruptions and have investigated a new overhead transmission line through Anacortes as well as a new submarine cable to the mainland. Both projects would cost in the hundreds of millions and require acquisition of easements and land in developed residential areas. As a small non-profit co-op, OPALCO is seeking grants for major projects such as these to protect rate payer affordability.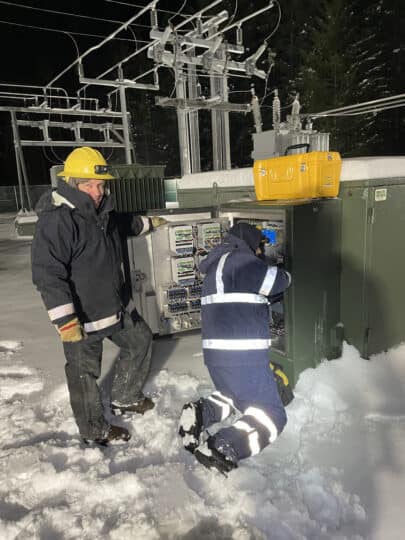 OPALCO appreciates members' patience during these difficult times. OPALCO is incredibly grateful to our talented line crew and their commitment to keeping our lights on. The team also appreciated all the emails and notes of gratitude that came pouring in – even as people were still waiting for their power to return.