Call 811 before you dig and mark the locate area with white paint
Avoid contact with underground power lines by getting help locating electrical lines before you start shoveling or excavating. Mark the locate area with white paint and then call 811 to dispatch a locate crew. The service call is free!
A backhoe mistake can disrupt service to an entire neighborhood, harm you and those around you, and can potentially result in hefty fines and repair costs. Call before you dig.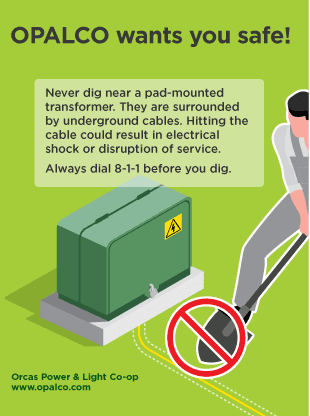 NOTE: Utilities, excavators and the public are all affected by the 2015 call-before-you-dig law that includes more rigorous enforcement, mandatory damage reporting and more costly penalties.
 Learn about the law at this website Can You Dig It or open an online request for your location in Washington.
Safety tips around downed power lines
Call 911 for help, and stay in your car if there is any possibility of contact.
Don't drive under trees resting on power lines, and call for help. No need to be a hero! Be safe, always.