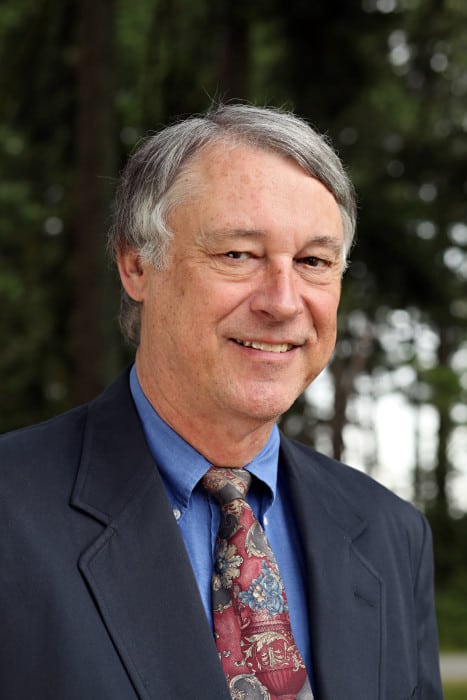 Vince Dauciunas and his wife Vikky have been residents of San Juan Island since 2002. After their 30 years in Silicon Valley, the beauty and quality of life in the San Juan Islands beckoned!
Vince currently is in his 10th year on the Board of Directors of the Friday Harbor Animal Shelter. He enjoys flying, and has a Commercial Pilot certificate. Vince holds Bachelors and Masters Degrees in Electrical Engineering from the University of Notre Dame and UC Berkeley.
After working at NASA's Jet Propulsion Laboratory, he spent 26 years with Hewlett Packard and Agilent Technologies in R&D, General Management, and Business Development. His experience includes development of systems for measurement, computation and communication in a wide variety of industries, including Power Generation, Environmental Science, and Water Quality. He was responsible for Strategic Planning in the Chemical and Life Sciences Group. Next, Vince was Vice President at Symyx Technologies, a company focused on materials research in fields including fuel cells, advanced battery technologies, and alternate fuel technologies.
Vince believes that the coming years are likely to be challenging because of the realities and politics of energy, global economic uncertainties, and climate change. It is vital that all organizations in the County responsible for the infrastructure be prepared to respond to these challenges.
OPALCO will continue to meet the members' need for reliable electric power. Given the above concerns, a long-term plan should be put in place to ensure that the power supply remains secure and affordable. As a member of the Board, Vince believes OPALCO should:
• Maintain a long term power purchase agreement with Bonneville Power Administration
• Improve the electrical and communications infrastructure to increase efficiency, security, safety, and adaptability, and make the communications infrastructure available for multiple community uses
• Actively support energy conservation and efficiency efforts
• Encourage member and community owned renewable energy generation systems
• Secure additional external power sources with other electric cooperatives.
Get in Touch!