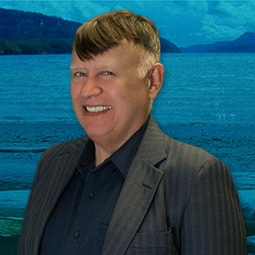 Jeff Struthers, a full-time islander, is committed to sustaining the reliable, low-cost supply of electric power essential for our island communities to thrive.
Jeff and his late wife Judith, joined the Orcas community full time in 1998. Since coming to Orcas, Jeff has remained actively involved as a volunteer, most recently including the County Parks Commission (member and former chair) and the Orcas Animal Shelter (Board Treasurer).
Before Orcas, Jeff was an executive in a small private investment company, evaluating business opportunities, structuring investments, crafting contracts, and managing the founder's family trusts. Earlier, Jeff was a career executive with the U.S. Office of Management and Budget (OMB), where he led a team of technical and financial experts providing non-partisan advice to three administrations over funding totaling approximately $10 billion annually (e.g., NASA, the National Science Foundation, the Smithsonian
Institution). Jeff also represented OMB on various governmental policy panels and taught seminars on the budget process.
Earlier, Jeff was OMB's expert for renewable energy and conservation technologies and helped shape a Presidential Solar Energy initiative and related legislation, plus renewable energy funding for the Tennessee Valley Authority.
Jeff also served as an Air Force Engineering Officer improving aircraft based weather observation and a global network for digital satellite communications.
\
Jeff holds a degree in Electrical Engineering, Professional Engineer
certification, and an MBA from Harvard.
Most recently, Jeff finished building a house of his own design using energy efficient
technologies, a commitment spanning more than a decade.
Get in Touch!