Your OPALCO account information is online and available around the clock. You can view and pay your bill, or review your usage at any time of the month. Bills are generated each month for a billing period that is typically 30 days that can vary from month to month. Read our new Understand Your Bill page for an explanation of each section of your OPALCO bill. Want to know what your bill is made up of? Check out this short explanation of revenue and your Co-op's cost of service.
If you need to make a change to your billing information, 360.376.3500 between 8AM and 4:30PM Monday through Friday or login to your SmartHub account.
Five simple ways to pay your energy bill
SmartHub (online)
AutoPay – bank account or credit card
SecurePay (by phone)
In person by visiting an OPALCO Office in Eastsound or Friday Harbor between 8 AM and 4:30 PM Monday through Friday
Drop your payment in the drop boxes at the OPALCO offices any time
Pay online
Pay your bill in SmartHub on a computer or mobile device. Download the SmartHub app to your tablet or smartphone.
SmartHub lets you set up how you want to pay with bank or credit card and get your bill notification by email. This saves your Co-op postage, paper and staff time. You can still view the billing inserts here.
And you can track your energy usage day-to-day, and compare month-to-month or year-over-year usage. Try out the Bill Comparison tool to better understand your business or household energy-use patterns.
AutoPay
Go to your SmartHub account to sign up for AutoPay – or call 360-376-3500 for help accessing your account. With AutoPay, the security deposit is waived (or returned). AutoPay removes any worries about late payments and late fees. Here is how you sign up for Autopay in SmartHub:

Here is how you sign up on your SmartHub app: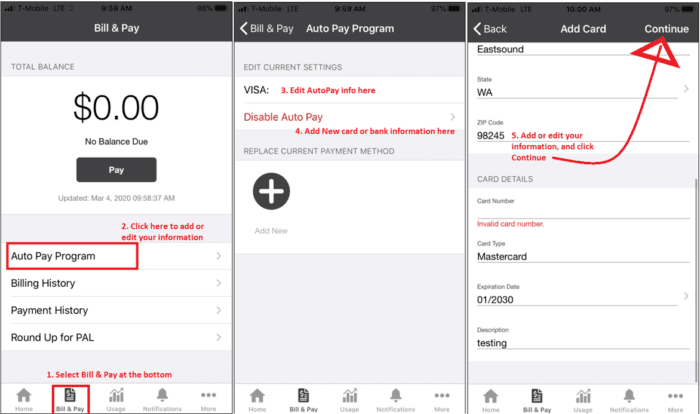 Pay by phone
Use SecurePay, our automated, highly-secure, over-the-phone payment option and pay your bill after hours. This free service is available around the clock by calling 1-888-999-0847 or by calling OPALCO directly (select option 3 on the auto-attendant). You'll be given the instructions on the line, and you'll want to
Know your OPALCO account number (view your online or paper bill), and
Have your credit card of choice handy.
Pay in person
Pay in person during business hours (Monday through Friday, 8:00 AM to 4:30 PM) by using check, cash or credit card at our Eastsound and Friday Harbor offices.
Drop box payment
Leave your payment into one of our drop boxes at the following locations in addition to the OPALCO business offices.
Orcas Island: Islanders Bank
Lopez Island: Lopez Island Pharmacy
San Juan Island: Islanders Bank
If you need assistance, contact Member Services. We can help you understand your OPALCO bill.