OPALCO's Board of Directors proudly sponsors the Nourdine Jensen Cooperative Youth Program & Scholarships for sophomores and juniors of OPALCO member households. The students selected will be awarded a $500 scholarship and the opportunity to attend the ICUA Youth Rally, a six-day summer camp at The College of Idaho in Caldwell, Idaho.
The Youth Rally provides a very full and fun week of travel and education on member-owned utilities. The week is filled by meeting new people, summer games (water park, bowling, volleyball, social dance, roller skating, talent show . . .) and field trips to local sites. All activities and games are designed to strengthen communication and leadership abilities. Through personal experience, students learn how much can be accomplished by teamwork and a cooperative spirit. While at Youth Rally, students compete with each other for additional scholarship awards and other leadership opportunities.
Student Testimonial
"Last week, I attended the ICUA Youth Rally in Idaho. As a new resident of the United States, I was just impressed by everything, the countryside, the culture, and more. I got to hear from inspiring people who have made great use of their lives to kids my age in juvenile prison who started off on the wrong foot… I appreciate your support for this program and I want to tell you that your efforts do not go to waste. OPALCO is more than an electric cooperative for this community, and we the youth will always be thankful." – Michaella
From our Scholars
Application Information
2016 Application – Due 4/11/16
Nourdine Jensen served on the OPALCO Board for 37 years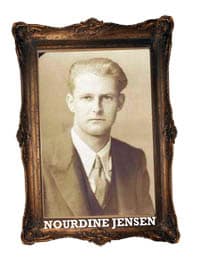 between 1965 and 2008. Nourdine was a long-time boat builder and former Friday Harbor town councilman, school board member and Port Commissioner. Nourdine believed in reliable, affordable electricity for the rural islanders of San Juan County and he believed in the cooperative model. In that spirit, the Nourdine Jensen Cooperative Youth Program was established to educate our youth about electric co-ops and public power, to give them the opportunity to expand their horizons and to develop leadership qualities.
For more information, contact Suzanne Olson or call 376-3537.