Quick Fact – Switch It Up!
Switch It Up! is OPALCO's beneficial electrification program that saves members money.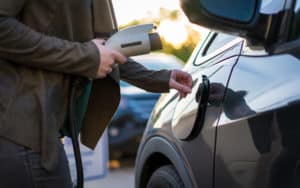 OPALCO's Switch It Up! Program is an example of Beneficial Electrification. OPALCO is encouraging the use of efficient electrical technologies for heating, transportation, and water heating instead of fossil fuels or other inefficient appliances for the benefit of the environment while saving members money and improving the overall condition, comfort and resale value of their home and businesses.
Members can apply to for on-bill financing for Ductless Heat Pumps, Heat Pump Water Heaters, EV Home Charging Stations and to install fiber to home or business.
Over 80% of energy used in a typical San Juan County home is for transportation and heating. Electricity in San Juan County is lower cost and greener than fossil fuels in most cases.
Members can save an average $1000 every year by making the switch from fossil fuel powered car that averages 30 miles per gallon to an Electric Vehicle. State and federal incentives make EVs more affordable than ever.
Ductless Heat Pumps use up to 50% less energy than other heating systems.
Heating water accounts for 18% of energy used in an average home. Heat pump water heaters use 60% less energy than conventional water heaters.
OPALCO has partnered with the federal Rural Energy Savings Program (RESP) to oer on-bill financing for specific energy eciency measures to help our members save money and reduce their carbon impact. In 2017, we were awarded $5.8M and an additional $15M in 2019. These funds are awarded at 0% interest. We can borrow all or none of the available funds depending on member interest.
OPALCO charges 2% interest for members participating in the program to cover administrative and regulatory costs ensuring that ONLY members participating in the use of RESP funds are the ones paying for the program.
Calculate your savings at: Switch it Up
More info:
https://energysavings.opalco.com/energy-savings/electric-vehicles-evs/ 
https://goingductless.com/why-ductless
https://hotwatersolutionsnw.org/ 
https://rockisland.com/smartenergy/