In September of 2017, OPALCO installed 13,596 feet of submarine cable that will operate at 69 kilovolts in the crossing between Lopez and San Juan islands. This armored cable, manufactured by Sumitomo USA, replaced the existing 1977 cable, also made by Sumitomo. With layer upon layer of protection built in and the high quality of manufacturing, OPALCO expects this cable to provide more than 50 years of service.
OPALCO members named the cable the "George Goff Memorial Cable" or "George" for short. George Goff was the San Juan District line superintendent for 34 years (1962-1996) and was instrumental in building our reliable electric system.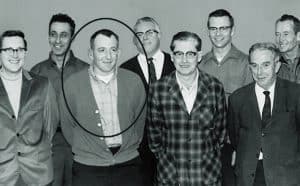 The new submarine cable carries both power and fiber cables. Fiber is now an integral part of OPALCO's automated electrical distribution system, and equipment on either end of the cable uses the fiber to monitor and protect the cable itself. "We depend on fiber throughout our 20-island system to monitor power quality, identify faults and open and close circuits to reroute power during outages," said Joel Mietzner, System Engineer. He credits the foresight of OPALCO's leadership and engineering teams for their decision to go with fiber optics back in 1999 and notes that this crossing is one of the last places in the entire system where fiber isn't installed.
Benefits of the Project
Maintain a power infrastructure that will support power use in the San Juan Island for the next 50+ years.
New cable has a no- to very-low impact on the sensitive marine environment. The multiple layers of protection built in replace the need for an oil-filled cable, as the 1977 cable was.
Install fiber optics (144 strands) for remote monitoring of submarine cable (cable condition, power quality and fault prediction), redundancy in our communications connection to the mainland and increased capacity for county-wide fiber communications.
Increase system power capacity: each of three phases of electrical conductor can independently carry the entire electric load of San Juan, Brown, Pearl, Henry and Spieden islands.
Project Timeline and Updates
Click on the image above to view the full timeline for our submarine cable replacement project.
Need for the Project
OPALCO Relies on the Submarine Cables to Deliver Power to 20 Islands
OPALCO gets its power from the Federal Columbia River Power System, through Bonneville Power Administration. Hydroelectricity is generated at dams along the Columbia (and other) rivers, and travels across a big transmission grid to Fidalgo Island, where it is moved into submarine cables to reach the islands. Throughout OPALCO's electrical distribution system, there are 11 transmission and 15 distribution submarine cables connected all of the islands. Our system is built to have redundancy in each crossing for greater reliability.
As we plan for our future power supply, we envision more renewable sources and more locally distributed power but, in order to meet the demand for power year-round, we expect our submarine cable "extension cord" to the mainland power grid will always be a part of our system.
Current Cable System is 50 Years Old and Fraying
The existing submarine cable in this crossing was installed in 1977 and decommissioned in 2016 to prepare for the new cable. It was also manufactured by Sumitomo and had an expected life span of about 50 years. The wear and tear on the 1977 cable was first documented in 2011 when divers discovered damage to the outer cable covering due to tidal action, boat anchors dropping and catching on the cable and general disintegration of the outer cable materials, as is expected in the rough marine environment.  in The 1977 cable was filled with mineral oil to protect it from the elements, which was the best solution at the time. The mineral oil was pumped out of the old cable to prepare for removal. A complication in the removal of the old cable is the fact that CenturyLink's submarine cable in the same crossing has drifted over OPALCO's and is laying right on top of our 1977 cable in at least five places. OPALCO has been working with CenturyLink and the regulatory agencies to avoid the risk of another major communications outage such as the one in November of 2013 when the telephone company's cable broke. OPALCO is taking every measure to protect our membership from another outage by cooperating with CenturyLink's efforts to remove and relocate their cable. OPALCO and its subsidiary Rock Island Communications are also installing additional redundancy in other crossings to carry some of the communications traffic, in case of another outage.
Project Cost
Total Project Cost: $15M
The 2017 Submarine Cable Project is included our regular Construction Work Plan and financed, with all other capital projects, through the USDA/Rural Utilities Service (RUS). The loan is paid off over 30 years with depreciation expense budgeted each year.  Permitting/Lease agreement/design/legal/Surveys: $  700,000
Cost Breakdown (rough)
Purchase of Submarine Cable: $2.1M
Purchase of land cable: $310k
Removal of old cable: $2.6M plus $3M mobilization and de-mobilization
Installation of new cable: $2,930k plus $3M mobilization and de-mobilization costs
Submarine cable terminal site work: $1.5M
Efficiency = Cost Savings
The cost of the submarine cable project is spread out over the 30-year loan period and budgeted each year. Because OPALCO is a non-profit, member-owned cooperative, it operates at the cost of service. The incremental costs of paying back the loan for the 2017 submarine cable projects will be included in the cost of service and member rates for the next three decades – along with all of the other capital projects required to maintain reliable power to 20 remote islands.
Because of the quality of manufacturing and inclusion of fiber optics for self-monitoring, the new cable is expected to last more than 50 years will pay for itself twice over based on the power it will wield. The new cable is very low maintenance and highly efficient and will provide cleaner, more stable power which, in turn, reduces system losses, equates to greater system reliability and results in significant cost savings, especially over the life of the cable.
Two significant differences between the old 1977 cable and the new 2017 cable that add up to savings are: 1) the new cable includes fiber optics which will be used to constantly monitor the condition of the cable, allowing OPALCO's engineering crew to make adjustments to power flowing through and to make targeted repairs to the cable before damage is incurred. And, 2) because of the multiple layers of protection built into the new cable, it is expected to tolerate the marine environment better and have a significantly greater lifespan saving replacement costs and impact on the sensitive marine environment.