Annual Meeting & Annual Reports
Orcas Power & Light Cooperative (OPALCO) member-owners are encouraged to read the Annual Reports and to participate in the Annual Meeting. The Annual Meeting is held each year at the end of April or early May aboard a Washington state ferry, traveling between islands. For election information, check out our Resource Library.
Attend the Annual Meeting
The Annual Meeting is set for Saturday, April 21, 2018. What happens at the Annual Meeting? You get to meet your co-op family, the OPALCO Board members and staff, and hear from the General Manager about the state of the Co-op. We serve a healthy bag lunch to members, and sometimes have supporting agencies there to answer your questions, for example the Conservation District staff or our BPA team.
Read the Annual Report
The Annual Report is available at the Annual Meeting and onlin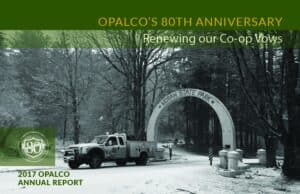 e. Limited hard copies will be available in OPALCO's offices following the annual meeting, while supplies last. What will you find there? A brief financial report, an update on the election process, stories on our submarine replacement project and solar community projects, member profiles and more.
Take action!
VOTE in the annual election online or by mail. The 2018 election opens on March 29th and all ballots must be received by Thursday, April 19th @ 10:00 am PDT. No more voting on the boat!
Visit our How to Vote page for more information.
For this year's voter's guide, travel schedule, candidate bios and more, please visit our Resource Library. (to be posted in March, 2018)
Some content on this page is saved in an alternative format. To view these files, download the following free software.