Appliance Rebates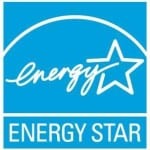 Don't be fooled by  the federally required EnergyGuide Usage label and the ENERGYSTAR label. Federal law requires that EnergyGuide labels be placed on all new refrigerators, freezers, water heaters, dishwashers, clothes washers, central air conditioners, heat pumps, furnaces and boilers. The ENERGYSTAR label identifies appliances that operate with the highest energy efficiency. Sometimes the ENERGYSTAR logo will be on an EnergyGuide Label if that appliance qualifies. Appliance Rebate Form
---
Clothes Washing Machine Rebate

It's all about the MEF or Modified Energy Factor and the WF or Water Factor (not Wrestling Federation!). The MEF is a measure of the energy used during the washing process including machine energy, water heating energy and dryer energy. The higher the MEF the more efficient the clothes washer.  The Water Factor is the measure of the gallons of water used per cycle. The lower the water factor the more water efficient.  Our rebates are as follows: If you have an electric water heater
$30 for  ENERGYSTAR with MEF  2.0 – 2.19 and WF of 6.0 or lower
$50  for ENERGYSTAR with  MEF 2.20-2.45 and WF of 6.0 or lower
$70 for  ENERGYSTAR with  MEF 2.46 or higher and WF of 6.0 or lower
If you have a propane water heater the rebate is $20.
The machine must still be ENERGYSTAR with MEF 2.0 and WF or 6.0
Appliance Rebate Form
Refrigerator and Freezer Rebates
Looking for more information or research visit www.consumerenergycenter.org/home/appliances
The rebate for ENERGYSTAR Refrigerators and Freezers of 7.75 cubic feet or greater is $15.
The Appliance Decommissioning Program ended September 1, 2011. You can still perform the following to make sure your old refrigerator or freezer do not make their way back onto the grid:
1. Cut the power cord
2. Remove or smash the control thermostat
3. Cut door gaskets
---
Water Heater Rebates
Next to heating your home, heating your water consumes the most energy. It is estimated that 25% of your electric bill is used to heat water for your daily needs. For a water heater  first look at the Energy Factor (EF) which is a measure of its overall energy efficiency and is based on the amount of hot water produced per unit of fuel consumed over a typical day. The higher the EF the more efficient the water heater. Also, look at the size you really need, the warranty and the First Hour Rating (the amount of hot water in gallons the heater can supply per hour). For our Energy Factor requirements see the  Appliance Rebate Form
Heat Pump Water Heaters have just been approved for rebates.    OPALCO is offering rebates of $300 on 50 – 75 Gal. heat pump water heaters and $500 on heat pump water heaters larger than 75 Gal.  Please read the OPALCO's Heat Pump Water Heater Rebate and Installation Guidelines for specific information.HEAT PUMP WATER HEATER REBATES ARE FOR NEW CONSTRUCTION AND EXISTING SINGLE FAMILY HOMES ONLY. IN EXISTING HOMES, THEY MUST REPLACE AN ELECTRIC STORAGE WATER HEATER.
To apply for the OPALCO rebate please complete and submit the Heat Pump Water Heater Form, the proof of purchase (receipt) and the Manufacturer's Installation Checklist (found in the installation manual included in your unit).
For the OPALCO heat pump water heater rebate, a homeowner may install the unit themselves. By doing so, the homeowner is responsible for self education and commits to follow the manufacturer's instructions. There are installation videos available on the manufacturer's websites with exact procedures to follow for successful installations. These videos are considered Manufacturer Training.
The Smart Water Heat program has their Best Practices for Heat Pump Water Heater Installation Guide posted online (http://smartwaterheat.org/sites/default/files/Smart_Water_Heat_Best_Practices_Installation_Guide.pdf)
See this table of Northern Climate Qualified Heat Pump Water Heaters for the complete list of all qualifying units for our region.
For more information about Heat Pump Water Heaters visit http://www.bpa.gov/Energy/N/HPWH.cfm.
Contact us if you have any questions.
Looking for more information or research on appliances?
Visit www.consumerenergycenter.org/home/appliances
Check out the green version of Consumer Reports for rankings of the most efficient household appliances www.toptenusa.org
Other Water Heating Technologies
Check out this article about Tankless Hot Water Heaters: The Truth About Tankless Water Heaters