NEWS: Don Galt, Sr. Withdraws his Candidacy (4/7/14)
OPALCO's 77th Annual Meeting is scheduled for
Saturday, May 3, 2014 on the ferry.
Get the Travel Schedule here. View the 2014 Ballot_Book here.
Our 2014 Election includes two open positions on the Board for District 1 (San Juan, Pearl, Henry, Brown and Spieden islands) and two member initiated bylaw amendments. Ballots and Ballot_Booklets will arrive by mail the week of April 11th. Annual Reports will be distributed at the annual meeting.

Board Election
2014 Board Candidates Nominated by Committee:
Vince Dauciunas (incumbent)
Glenna Hall (incumbent)
Bryan Hoyer
Doug Rowan
John Sheehan
2014 Board Candidates Nominated by Petition:
Don Galt, Sr. (withdrawn)
Steve Hudson
Bylaw Amendments
There are two member initiated bylaw amendments on the 2014 ballot. Members are invited to vote "Yes" or "No" on these ballot measures. Cost estimates for each bylaw amendments are linked below:
1) Article II Meeting of Energy Members – cost estimate of proposed amendment
2) Article IV Meetings of Directors – cost estimate for proposed amendment
2013 OPALCO Annual Report
2012 Annual Report & Historical Publication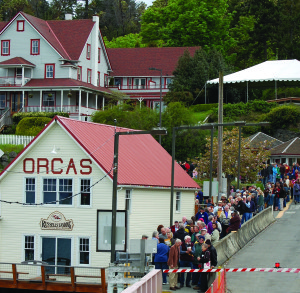 "Like" Orcas Power & Light Cooperative on Facebook – and share your own OPALCO story!