NEWS: OPALCO's 77th Annual Meeting is scheduled for Saturday, May 3, 2014 on the ferry.
(2/3/2014) – BOARD NOMINATIONS SOUGHT – Two OPALCO director seats are up for election in District 1 (San Juan, Pearl, Henry, Brown and Spieden islands). To enter your name as a candidate, submit your resume and a cover letter to the District 1 Nominating Committee: Victoria Compton, Victoria@rockisland.com; Mark Madsen mark.e.madsen@gmail.com; Peter Kilpatrick raven@interisland.com or Bev Madan at OPALCO 376-3549. The Nominating Committees must submit candidates' names to OPALCO no later than March 4. Other members who wish to run may be nominated by petition containing at least 15 member signatures. Petitions are due no later than March 19. Directors will be elected at the annual meeting May 3.
OPALCO's 76th Annual Meeting Results (5/4/13)
2013 OPALCO Annual Report
Photos from the 2012 Annual Meeting
2012 Annual Report & Historical Publication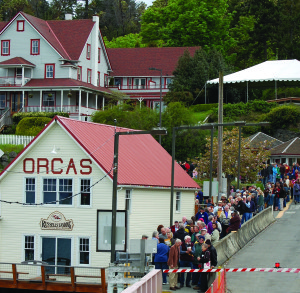 Check out the award-winning 75th Anniversary website for:
Historic Timeline with photo, story and video galleries
Detailed information on special events
Invitation to share your own stories and photos

"Like" Orcas Power & Light Cooperative on Facebook – and share your own OPALCO story!